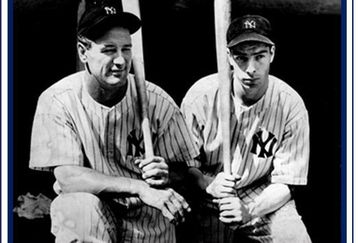 By Patrick Read
With the off-season slowing down to a snail's pace, there is no better time to do an All-Time Yankee Line-Up.
The Line-Up includes Bench Players, a mixture of right & left-handed sluggers, a Designated Hitter, a rotation mixed with lefties & righties, a mid-reliever, late-reliever & Closer too. It is finalized with the All-Time Television broadcasters, radio broadcasters with newspaper & writer.
Please read on and feel free to leave your thoughts on who would make the squad on your team...
The New York Yankees have the richest legacy and deepest-of-all talents for any one franchise, plus a winning tradition paralleled by no other team in the world. Needless to say, this was one challenging task, keeping in mind that all generations will be accounted and the Yankees have beeen winning World Series Titles since 1923.
Their twenty-seven World Series Championships remain second-to-none in any country, of any sport and has come to lay claim to what is now known as, "The Yankee Universe."
Order and Line Up
1.) Leading off and playing Center-Field is Right Handed, Joe DiMaggio.
Career Batting Average = 325. Hall Of Famer (HOF)
"The Yankee Clipper" was the sharpest tool in the shed for the Yankee from 1936 To 1951. "Joltin Joe" made his MLB debut in NY and was an All-Star every single year that he played, earning 9 Rings out of his 13 year career. He won the MVP three times and is tied for second in most World Series Yankee Titles. Only Yogi Berra has more. Joe is # 4 in Yankee All-Time OPS.
Touting the all-time least-likely streak to be overcome, Joltin Joe (video) has the record for most consecutive-games with a hit at 56, in 1941. His speed was memorialized by Yogi Berra, who once said, "You never saw Joe DiMaggio dive for any ball hit to center-field. He caught everything chest high."
2.) Hitting second and playing first-base is Left Handed, Ludwig Gehrig.
Career Batting Average = 340. 1st ever Yankee Captain (HOF)
"The Iron Horse" played 2,130 consecutive games from 1923 to 1939. Lou was the only person in the history of the game to be inducted into the Hall of Fame who played in the same year as being elected. Having been clean-up hitter for the widely known "Murderers Rows," Lou holds the American League record for RBI with 184, a record that may never be beaten.
Having busted into the league in 1923, Lou was as reliable a left-handed bat as any in Yankee history (video). He helped New York transition from Murderers Row into what became known as the Bronx Bombers, and undoubtedly Lou would be sure to move Joe over and into scoring position. He was # 2 in All Time Yankee OPS.
3.) Playing Third Base and hitting third is right-handed, Alex Rodriguez.
Career Batting Average 308. Future HOF
Coming into the league at age 19, "A-Rod" was widely regarded as the league's premiere short stop in the mid 1990s and is widely known for his range along with a rock-solid arm. He is the youngest player to hit 500 home runs (video).
With his reliable power & speed, he would hit in the top-three in order to move runners over and drive in runs simultaneously. He is # 2 in All Time Yankee home runs per at bats behind Babe Ruth, and is number 5 in OPS.
4.) Batting 4th & Playing Right Field is lefty, George Herman Ruth.
Career Batting Average = 342 (HOF)
"The Sultan of Swat" held the title Home Run King when fences were 450 feet andd when the league used what is now known as a "dead ball" or softer ball. He also played when pitchers had an advantage by throwing off of a higher mound.
"The Bambino" out homered an entire league in 1927 with 60 fence (video) clearing shots in only 540 at bats, in 151 games. "The Babe"--even now--remains the standard to which all great power hitters are compared. He was traded to the Yankees in 1920 and played 14 years in Pinstripes, ending his career hitting 3 home runs in his final game against the Boston Braves in 1935.
Babe leads the Yankees in just about every pertinent offensive title including batting average, runs scored, total number of bases and all-time home runs. He could even sing (video)!
5.) Starting in Left-Field, is switch hitting power, # 7, Mickey Mantle.
Career Batting Average of = 297 (HOF)
"The Mick" (video) was stronger than a mule and is famous for being a work horse who carried the team to "7" World Series Rings. He won the Triple Crown, the MVP three times and is a 20 time All-Star, Gold Glove, Hall of Famer.
With power from both sides, "The Commerce Comet" hit one of the longest home runs ever measured at 634' in 1960.
Having great speed and a strong arm, the Mick would more than cover left field and be able to throw runners out at second from the wall with ease. He was the clean up hitter for years and would drive in runs or drive the ball out when no runners were on-base. The Mick is third in All-Time Yankee OPS.
6.) Hitting left handed and playing catcher is Bill Dickey.
Career Batting Average = 313 (HOF)
The philosophy here is that guaranteed Joe or Lou gets on base and then between A-Rod, the Babe and the Mick someone has hit a double, or more. At minimum, a runner should be on second with maybe another on third with some runs on the board. That is why I bring in Dickey here--I looked for a reliable bat to get a smiple base-hit and set up the next power bat. And one needs look no further than Dickey--Mr. Reliable.
Bill Dickey (rare video) is the mentor of Yogi Berra and is tied for the fourth all-time Yankee highest batting average with only Joe, Lou and Babe having higher averages. Dickey played his whole career with the Yankees starting 1928. He was a 9 time All-Star catcher and ended his career in 1946. For 11 consecutive years he had more than 120 hits and was a pivotal part of Murderers Row and the Bronx Bombers. He has 9 World Series rings, which is second only to Yogi.
7.) Playing second-base and hitting right-handed is Tony Lazzeri.
Career Batting Average = 292 (HOF)
"Push Em Up Lazzeri" (rare photo) played on the Yankees from 1926 through 1937 and also transitioned the team from the Murdering Row days to the Bronx Bombers. IN his rookie year Tony had 14 home runs and 114 RBI. He earned 5 rings and hit a career best .354 in 1929 while going seven years with more than 100 RBI and 5 consecutive seasons with a .300 plus average. Towards the bottom, Anthony is positioned here to load 'em up once again.
8.) Batting eigth is the left handed Designated Hitter, Jason Giambi.
Career Batting Average = 288 average, possible HOF
This is the power-bat that Dickey and Lazz were placed in front of--one of the two should be on base--and with Giambi's slugging % plus his 3rd All-Time homers per at-bats, the chances are he knocks one out.
Reggie comes in a close second, but Jason edges him out in slugging, OPS and is hitting 26 points higher in average than did Reggie. "The Big G" (grand slam video) averages 28 home runs per year and if he plays 7 more years he is on track to hit 575 home runs and is currently at 386. Jason is a 5 time All-Star and tied with Reggie having one MVP.
Jason is in the top three for All-Time home runs per at bat with 14, just behind A-Rod at 13.8 and Babe at 10.9. Jason is 6th in All-Time OPS too.
9.) Hitting 9 The second lead-off, right-handed short-stop, Derek Jeter.
Career batting Average = 317. Future HOF
"Mr. November" is one of very few to be named the Yankee team captain. Derek debuted in 1995 playing short-stop and in his very next year helped the Yankees end a 19 year World Title draught.
In his 15 years, he is a 10 time All-Star and has earned 5 World Series Rings. "Captain America" is--without question--the best Yankee shortstop in the history of the organization, winning 3 consecutive gold gloves in 2004, 05 & 06 and another in 2009.
He broke Lou Gehrig's all-time Yankee's hits record (video). Derek was rated in the top 3 best in the MLB at short-stop in the 1990s and has set the standard for short-stops to be judged league wide. He has never played another position in his professional career. Having him here offers Joe Di a relaible bat to hit behind and someone with speed. It then starts over again.
On the Bench:
Yogi Berra (.285--Left--HOF), Thurman Munson (.292-2nd NYY Capt.–-Right--HOF Hopeful). Reggie Jackson (.262--Left--HOF), Bernie Williams (.297 –-Switch--Possible HOF), Bob Meusal (.309 –-Right--HOF). Roger Maris (.260--Left--All-Natural, HR KING) Rickey Henderson (279-Right-Speed-HOF).
note: Re Roger Maris - he replaced Babe Ruth as the single season HR King, who hit 60 homers while playing in 8 less games than did Maris. Here is a video of Maris' 61st homer.
The league gave Roger Maris an asterisk in the Hall of Fame for his Single Season HR King Title. It was removed in the early 1990s, but Roger had already passed, which maybe the way Pete Rose and others will be dealt with too. Roger Maris's ball remains in the Hall, but Roger Maris himself is not a member--he held the single season HR King Title longer than anyone else in history.
Rotation:
1.) Whitey Ford– (HOF) "The Chairman of the Board" (video) had a career 2.75 with 3,170 innings pitched. "Slick" helped earn a total of 8 World Series Titles. Ford was one that came into the League as a Yankee Major Leaguer and went out one too. He had an overall ERA of 2.75 with a career low of 2.13 when appearing in 10 games or more. – Lefty
2.) Roger "Rocket" Clemens–Following the lefty is one of the only pitchers to have ever won a MVP. The Rocket has earned 354 wins (8 All Time), with 4,672 strikeouts (3 All Time) and 7 Cy Young Awards (#1 All Time). He got his 4,000th strike out on the same night he won his 300th game (video). He's an 11 time All Star and helped the Yankees win two more rings. Clemens came into the league as a Red Sox, spent 2 years in Toronto and then 6 years with the Yankees. He has an overall 3.12 ERA with a career low of 1.87. – Right.
3.) Ron "Louisiana Lightning" Guidry–(possible HOF) "Gator" touted the All-Time Yankee Low ERA andd helped secure two more rings after the slue that began in the 1920s and ended in the 60s. He has the most strike-outs (18) in one game by any Yankee (video). Guidry is a 4 time All-Star and 5 time Gold-Glover. He came into the League a Yankee and went out one too. Guidry's over all ERA was 3.29 and he had a career low (and third All-Time Yankee low) ERA of 1.74 in 1978 – Left
4.) Red Ruffing rare photo (HOF) With a second right-handed pitcher who averaged over 220 innings each year and had a low ERA of 1.77, Ruffing pitched a total of 85 World Series innings and helped earn 7 World Series Titles, including four in a row from 1936 through 1939, and another 2 in a row in '42 & '43. Ruffing came into the league with the Red Sox, spent most of career in Pinstripes and played his final year with the White Sox. Ruffing threw less than a 4 ERA in 13 consecutive years. He had an overall ERA of 3.8 and a career low of 1.77 in 1946. – Right
5.) Lefty Gomez photo (HOF) Following another right is Lefty Gomez who has 29 Yankee Shut-Outs (3 ) and helped the team earn 5 rings. Lefty averaged 247 innings per year and boast an overall ERA of 3.34 with a career low 2.33, which he did twice. He came into the League a Yankee and went out with the then AL team, Washington Senators, in his last and final year of a 14 year career. – Lefty
Bull Pen Including Two Relievers and a Closer.
The 7 inning bridge starts with Goose Gossage who had a career 3.01 ERA, an overall Yankee low ERA of 2.14 and one year put up a career low of .77. Goose rates third in all time Yankee saves per innings pitched at 151 (S) / 533 (IP).
The Set-Up Role is being filled by Dave Righetti who has the 2nd most all time Yankee saves with 224, and is third in one-year saves with 46. Righetti is ranked second in Yankee saves per innings pitched at 224(S) / 1137 (IP).
Closing is, "Enter the Sandman," Mariano Riviera. The all-time career saves leader with 526 saves, "Super Mariano" holds the All-Yankee single-season saves record at 53, and again at 50. Mo has a career-ERA of 2.31 (2nd All Time Yankee) and a low 1.38. He leads the Yankees in saves per innings pitched at 471 (S) / 1004 (IP).
Coaches:
Casey "The Old Professor" Stengal (HOF Mgr. 7 time WS Champion) and Billy Martin (1B Coach and 2 time WS Champion) and Joe McCarthy (HOF - Bench Coach - 7 WS Championships) with Ron Guidry as the Pitching Coach.
TV, Radio and Newspaper:
My All-Time TV play-by-play announcer would go to John Sterling and although branded a "homer," there is no better play-by-play man in the game, save the home run calls. Phil Rizzuto (SS - HOF) is the color commentator with Jim Kaat (P-HOF) as an Analyst.
Radio: Mel Allen (HOF) is the play-by-play announcer with Charlie Steiner his color commentator.
All Time Newspaper: The NY Post, featuring George King. He's good. The Daily News can go blow--which probably excites Lupica to no end--they're a bunch of Yankee Haters led by a graduate of Boston College.