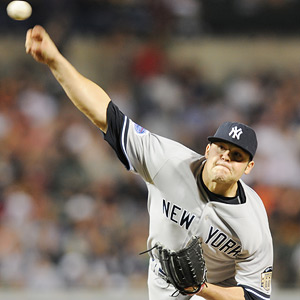 Washington DC
By Patrick Read
As a blustery winter-cold blanketed the entire nation in snow—reminding all how bone-chilling cold global warmth can get—the ever expanding Yankee Universe has been once again set ablaze with mounting pressure over what's come to be known as, "the debate."
And minions of Phil Hughes E-fans have been chiming in, promoting the idea that he be named a Yankee starter over fellow young teammate and Yankee phenom, Joba Chamberlain .
Someone tell the Hughes fans to be more patient—because in comparison—it is clear that Joba Chamberlain is more starter-ready than Phil Hughes.
Joba has the edge over Hughes in most categories considered important; especially progress, ERA, games started, innings-pitched, team need and overall health. Proper mechanics and a role-to-talent comparison should also be considered when talking about who should start in 2010.
It is not too often that Yankee fans have seen rookie talent come up from the minor leagues to become a premiere starting pitcher, let alone two at the same time .
The last pitcher to accomplish the feat was Andy Pettitte in 1995, after a four year minor-league stint.
Some might be tempted to say that Mariano Rivera did the same after having spent five years in the minors, but he suffered Tommy John's in his first year and was—thankfully—permanently sent to the bullpen afterwards . Yes, Mariano was supposed to be a Yankee starter and it worked out well that he wasn't one.
Before Andy was Dave Righetti , who became a full-fledged major-leaguer in 1981 having spent four years in the minor-leagues. And before him was Ron Guidry, who spent six years in the minors before breaking out in 1977.
Joba started 2007 in the A+ league throwing 40 innings in 7 games, he went 4-0 and had a 2.02 ERA. He quickly moved up to the AA Trenton Thunder, again starting 7 games, throwing 40 innings, he went 4-2 with a 3.35 ERA. Then Joba was sent to the AAA, Wilkes-Barre Scranton Yankees, where he started 1 game and lasted 8 innings striking out 18 hitters while giving up 0 runs.
After starting 15 games, throwing 88 innings, Joba's record was 9-2 and he had a 2.45 minor-league ERA. Chamberlain soared through the ranks of the minor-league system and made his major-league debut in his first year, where he opened a nation's eyes throwing 24 blazing-innings of relief while maintaining a 0.38 ERA. He has yet to be sent back down.
Hughes' first year was in 2004 and he didn't debut in the majors until 2007 when he started 13 games—his most big-league starts to date—while maintaining a 4.46 ERA, his lowest to date. 2010 will be Hughes' sixth total year and he has yet to even get through a half-season of major-league baseball and remain healthy.
In 2008 and in only his second year, Joba was challenged to move to the Yankee rotation as Wang, Hughes and Kennedy each fell to injury. Joba responded by earning the 2008 team-low ERA for starters.
* In 2008, Chamberlain touted a 2.76 ERA in 12 games-started and 65.1 innings.
* In only 8 games started and 34 innings, Hughes put up a 6.62 ERA.
Many fans point to Chamberlain's disappointing 4.78 ERA in 2009 as the main reason why Hughes should start in 2010. Some consider that an average ERA—especially in the toughest league in baseball—but not for Joba.
What they fail to mention is Phil's ERA as a starter in 2009.
* In comparison to Chamberlain's 4.78 ERA
* Phil Hughes had a 5.45 ERA , almost a full earned-run more than Joba.
While the two virtually matched one another in WHIP—Chamberlain's 1.554 to Hughes' 1.500—and opponent batting average—Chamberlain's .275 to Hughes' .276—the two areas where Joba clearly dominates is in games-started and innings pitched.
* In 2009, Joba started 31 games and pitched 156.1 major-league innings
* Phil Hughes only started 7 games and pitched 34.2 innings.
Joba threw more big-league innings in 2009 than Hughes has thrown over the last three seasons as a starter.
The two pitchers were almost identical in strike-outs per 9 innings, Hughes with 8 and Joba with 7.6.
Not too many predicted Chamberlain's unorthodox transition from the bullpen directly into the rotation. Most thought he would be sent down to the minors, instead of pitching extended innings as a reliever, stretching out his arm to start.
By all means, the 2008 transition worked.
While Hughes was injured in both 2007 (pulled hamstring) and in 2008 (broken rib), Joba only suffered a slight shoulder-strain in August 2008, most likely the result of throwing too many sliders. He made it all the way through 2009 healthy, which was more than likely his season's goal rather than performance.
Despite high expectations lost, Joba did lead the team in low-ERA going into mid-June, in what would have only been his third year in the minors. He showed the 97 mph fast ball on several occasions last year—including in the post-season. It was as if Joba was on an injury prevention program in 2009. Certainly, a fast ball doesn't magically appear for some games and not others.
And when it really mattered, Joba has out-performed Hughes in the pressure cooker of post-season play.
* In two post-seasons, Joba Chamberlain has a 3.60 ERA
* Phil Hughes has a 5.25 ERA.
In the 2009 World Series:
* Hughes gave up 3 earned-runs in 1.2 innings and had a 16.20 ERA.
* Chamberlain gave up 1 earned-run in 3 innings, ending with an overall 3 ERA.
But solace can be found for Hughes fans.
2009 was Phil's most impressive year-to-date. Albeit from the bullpen, Phil turned the Yankee season around displaying a brilliant-shine and 1.40 ERA in relief. In effect, Hughes showed to everyone where he is more valuable to the team. As a major-league starter he has a combined 6 (+) ERA. As a reliever he has a 1.4 ERA.
And after having lost Brian Bruney and Phil Coke this off-season, the Yankees will need his strong bullpen-arm in relief; especially considering the effect he had last year.
The fact that Hughes can perform in the bullpen makes the decision all the more easy for the Yankees to announce Joba the 2010 starter.
It's a no-brainer.
While it is hard to argue that Chamberlain would be the best set-up man in the league, so would have Nolan Ryan, Roger Clemens, Randy Johnson or Doc Gooden.
But those who can start—do start.
If pitching in every other game for an inning were more important than putting up 7 innings every five games, then Mariano would be the highest paid pitcher in the league. He is not, because it is not. The value is placed on starters because they typically "win" or "lose" games.
Finally, a pitcher's mechanics must be considered.
Phil Hughes has a certain elbow jerk that makes some nervous about how he would respond to pitching in the rotation for a long, strenuous season. His delivery would be less a worry if pitching less consecutive innings in relief.
After having adjusted his mechanics —moving his weight back to the balls of his feet and straightening out his spine during the set-up, producing more torque—it can be said that last year was an overwhelming success for both the Yankees and Chamberlain.
He learned how to "pitch" to big league hitters instead of just throwing the ball. And with better mechanics, he lessened the stress put on his shoulder. Chamberlain also mixed-in his curve ball more and relied a bit less on the slider—which as Chieng Ming Wang proved—causes injury to the shoulder.
And after three years of performing in the pros—having completely all but skipped the minors—consider the training wheels all but off for Chamberlain.
Yankee Pitching Coach, Dave Eiland said that the team will "rely more on Joba for when to take him out of games or leave him in," finally ending the Joba rules. It's window into Yankee's management thought process, unless Eiland thinks that Joba would need to come out while a reliever.
If starting, Phil Hughes would be limited—to a speculated—150 innings. This is evidence who the Yankees believe has made more progress and who the Yankees believe will be more durable and reliable.
In fact, the Yankees told Joba to prepare for the rotaiton in 2010 .
When objectively considering the stats; Joba has many more games-started, more innings pitched, a much lower ERA and has proven more reliable with improved mechanics. It makes little sense to throw away Chamberlain's two consecutive years starting; when Hughes has such a sketchy, injury ridden, history as a starter.
Hughes' brilliance in relief all but demands he fill the set-up role.
Look for Chamberlain to get after it this year slamming shut the door of the continued debate. After having a completely healthy season last year, don't be surprised to see Joba make a run at the AL Cy Young in 2010.
Look for Hughes to gain even more confidence in the bullpen and making more progress as a big-league pitcher while filling in the set-up role, much like Super Mariano did early in his career.
Not once in the last 40 years have fans seen one talent almost completely skip the minors and train for rotation while a major-leaguer in New York.
With New York only averaging one-premiere-starter produced from their minor-league system per decade, it's been about 15 years since fans last saw young pitching talent even become part of the Yankee starting rotation. And never two at the same time.