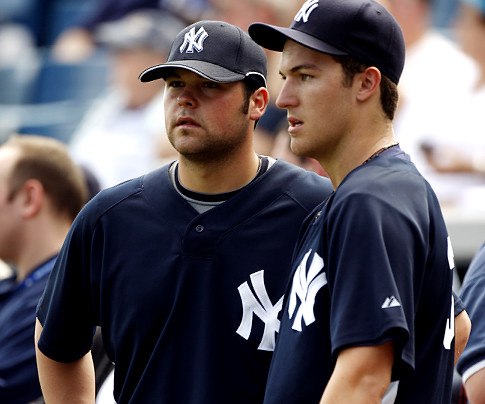 The Yankees went into camp with only a few questions to be dealt with. Who bats in the two and five hole, who would play centerfield Gardner or Granderson, and of course the most talked about question of who would the fifth starter would be. A quiet spring for the most part after having to deal with all the A-Rod drama last year. Most of these questions even on March 15th have already begun to be answered. It looks like it will be Nick Johnson, who is having a great spring so far, bating in the number two spot, and it will be Cano finally moving up into the five hole, as most Yankee fans who have been watching him knew he would. As for the centerfield situation for now it looks like Granderson will play Center and Gardener will be in a platoon in left, and although there's a slim chance of that changing I think come opening day it will be Granderson in center. The question that's still most up in the air would be the battle for the 5th starter, and thats a question that's only started to be answered.

Having a rotation that includes Sabathia, Burnett, Petitte, and Vazquez is great, but having a quality fifth starter during the year and in a pennant race is also very important. Going on performances in spring training so far the edge would have to go to Alfredo Aceves. He's had the most productive spring so far throwing the most innings and not walking a batter. Personally I never really think of Aceves as a fifth starter although I think he has all the tools to do it, he's just been so great out of the bullpen as a long man or spot starter its hard to think about taking him out of that roll. Now with a bullpen that includes Chan Ho Park, that may make the bullpen situation a bit complicated. That aside although Mitre and Gaudin are in the mix for the fifth starter spot, I think it's really always been about Hughes and Joba.

It was great to watch Joba come up in 2007 and jump right into that eighth inning role. He brought an exciting and dominant energy into the game every time he pitched, and it was a lot of fun to watch. Even with that in mind when it was announced that he would be a starter last year, I was quick to defend the situation to everyone that thought he should be the setup man. He throws four different pitches very well, and had been a starter most of his baseball career. That's all well and good but with the innings limit that had been setup for him, it was difficult to watch him come in only to throw three or four innings under the infamous "Joba Rules". Weather he'll ever admit to it or not I think the whole innings limit messed with his head, and we all know how much of baseball can be mental. The "rules" weren't allowing him to be the real Joba. Then this year in the playoffs I saw the same Joba that the city of New York fell in love with in 2007. He came into games charged up and "breathing fire". Watching him pitch like that again, I couldn't help but think that that was the role he belonged in. It takes a different type of person to be a setup man or a closer and I think he has the mindset to do either. There will NEVER be another Mariano Rivera, but it would be great to see Joba take that closer role once Mariano is ready to leave the game.

Then of course there's Phil Hughes. I really enjoy watching Hughes pitch, and I think he did a great job last year pitching in the eighth inning role. That aside I think his style of pitching and his mindset is much better designed to be a starter. I understand that he has an innings limit coming into this season but if he earns that spot I'd like to see the people who make those decisions give him a little room to play with, so he doesn't have to go through the same process that Joba did. When it's all said and done I think the Yanks will go into the season with Hughes as the fifth starter and a bullpen that included Aceves, Park, Robertson, Marte, Logan, Joba and Mariano. It will be interesting to see what would happen if Aceves, or even Mitre or Gaudin won the fifth spot what Girardi and Co. would decide to do with Hughes and Joba. Would they both get a spot in the bullpen? I think were passed the point of one of them starting the season in Triple A. They've proven themselves too valuable. My guess is the job will eventually go to Hughes, but the rest of these guys are giving him some good competition. It will be an interesting few weeks coming up. That's my take, what does the rest of the Baseball World think?