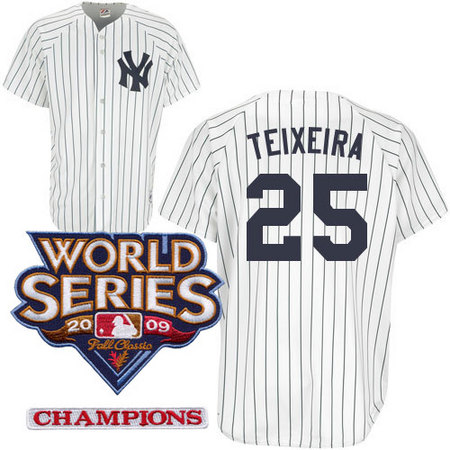 Now believe me I'm more about supporting your team than the next guy. I walk around with the Yankees interlocking NY tattooed on my leg. I think if your a fan you should support your team in anyway you can, at games or just on an ordinary day. It's nice because there's so many ways to do so. Hat's, T-shirts, Jerseys, Jackets, logos on your car, even body paint. Yet there is one thing to this day, that bothers me more than anything, and will continue to bother me until the day I die, or until this problem is corrected. The issue at hand is names on the back of Yankee Jerseys.

Now I'm not talking about the T- shirts with the names on the back or even practice jerseys. But Yankee fans please, if you purchase an authentic Yankee pinstriped jersey, I'm begging you don't get it with the players name on the back. I don't understand which ridiculous company started this, New Era, Sports Authority or Modell's? Whoever it was clearly there morons. Sorry for being so blunt about it, but it's just something that shouldn't be going on.

The Yankees are unique in that there one of the few teams around that don't have names on there jerseys. I believe the Red Sox home jerseys are the only other team in baseball who don't have names on the back. I know of two reasons the Yankees do this. One, there mentality is no one man is "bigger" than the team. The second is that Yankee fans are so knowledgeable when it comes to there favorite team, that they don't need names on the jerseys to know who's who. They know everyone from Derek Jeter to the second lefty in the bullpen(possibly Boone Logan this year). With that in mind I can't understand why any Yankee fan would commit such a baseball sin. There is no need to put any of these players names on the back of they're jerseys. I'm not sure who to blame really, the fans who are buying them, or the companies manufacturing them that way. Either way it really needs to stop.

The other thing, and forgive me if this blog is becoming more of a rant than anything(but hey that's what these blogs are for right?) but this year while I'm at The Stadium if I see anyone aside from children, wearing a Yankee Jersey and it has the names Ruth, Gehrig, DiMaggio, Mantle, or Berra on the back, I'm going to punch you directly in the face.(Not that I think children should be wearing them, I just don't have the heart to punch a child in the face, I'm not a monster) I'm serious about this you've all been warned. These men are Yankee legends, there is no need to put there names on the back of these Jerseys, believe me we all know who they are just by the numbers. Also I understand parents think it's cute when they do it for there kids, but if I see another number 7 jersey with the name Rubestein or Walsh or whatever on the back I'm going to have a nervous break down. I don't care that 7 is little Johnny's favorite number, Mom, Dad take charge and please don't do this disservice to the Mick.

Now I ask the rest of the Yankee world to help me out and spread the word, no names on the back of Fan's Yankee Jerseys, let's make this happen.