What's going on everyone? Some of you might know my work from Watch the Gap Sports(www.watchthegapsports.com) and if you do thank you for reading my stuff here. I haven't wrote on this blog in awhile but as of today there will be a lot more posts on here. Your comments are much appreciated on anything I may be talking about. If you don't know me I'm Matt but most of my blogging is credited as MattPel. I write about sports usually football, baseball, UFC. I leave the basketball and hockey to the experts although I have a few things to say about the new look Knicks, but well get there eventually. I don't know much but I know a few things about the Yankees and have devoted a lot of my time to learning about the history of that team. You'll see that most of my blogging will revolve around them so if your a Yankee fan and like talking about the team you came to the right place. Lets get right into it.

I'll be the the first to admit when I make a mistake and I made one a few months ago that a lot of people did. I wrote a blog about how I thought the Yankees would look in 2011. My prediction on the rotation was Sabathia, Lee, Hughes, Burnett, Pettitte. Shows how much I know because Andy Pettitte retired(at least for now) and Cliff Lee went back to the Phillies. With those guys not in the mix The Yankees have to figure out who there 4th and 5th starters will be. Of course there is one other issue and that's if there 3rd starter AJ Burnett, (and yes I put Phil Hughes ahead of him) will be able to rebound after a year where he went 10-15 with a 5.26 ERA.


AJ Burnett is a very strange pitcher. I've said it before he's that guy that on any night can go out and pitch a no hitter, or get shelled for 8 runs in two innings. His stuff is nasty but sometimes he just can't control it. Last year he had all kinds of control issues and although he's never openly admitted it, he appeared to have personal issues as well even showing up to a game at one point with a black eye. The fact of the matter is this people who are saying I don't understand this guy just won 18 games in 2008 really haven't done there homework. Aside from a great year on a contract year this is AJ Burnett, he's always been a .500 pitcher with a disgusting curveball who just can't always get himself right. He will always be the guy that threw a no hitter but walked 9 and struck out 7. He can be erratic and that isn't going to change. With that in mind something is going to have to change because Burnett now becomes a very important part of this rotation with some question marks with the 4th and 5th starters. New pitching coach Larry Rothschild has been very committed to helping Burnett improve for 2011, and even Burnett realizes how crucial it is for him to bounce back this year. It seems like he has his mind right and has changed a few small things with his delivery, so in a perfect world you would love to see that ERA drop down and that 10-15 record look more like 15-10 or better.

As important as it is for Burnett to do well it's also important to fill those 4 and 5 spots with guys who are able to get the job done and keep the Yankees in the game. If you can do that this team is going to hit and undoubtably win a bunch of games. As of right now Yankees GM Brian Cashman is not making any big moves for a starting pitcher. If the two guys the Yankees coaching staff decides on can carry the team to the All Star Break there's always going to be teams shopping some big pitchers at the break if need be. The three front runners for the two spots are Ivan Nova, Freddy Garcia, and Bartolo Colon(who somehow has pitched in the majors since 1997 and still can't speak English). Right now it looks like Nova is the favorite in that 4th spot. Nova had some nice starts down the stretch but the knock on him was he couldn't get through 5 innings last year. If he proves this year he can do well enough to get through say six innings, the Yankees bullpen will be able to do the rest. What stands out in my mind about him last season was he wasn't afraid to brush back Toronto's big slugger Jose Bautista and then stand up to him when Bautista approached the mound. You like to see that kind of toughness from a young kid.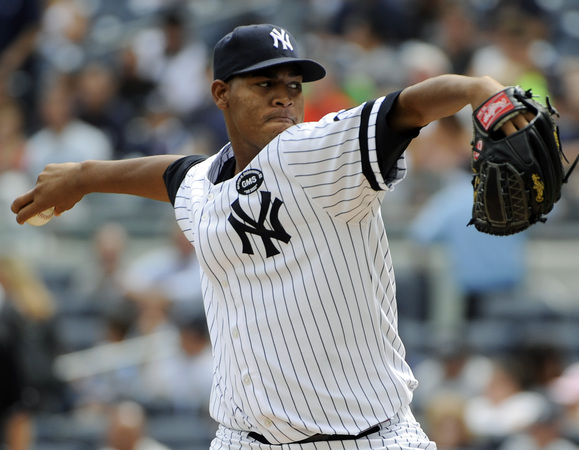 With Nova likely winning that fourth sport that leaves veterans Freddy Garcia and Bartolo Colon. I've always liked Garcia but he's had a lot of injuries over the passed few years. He showed in 2010 that if he doesn't just rely on his fastball and mixes up his pitches he can improve. The real question is can he really improve on that 12-6 record he put up last year because he's moving into a division where guys hit a lot of home runs, being a guy who has given up a bunch of home runs in his career. As for Bartolo Colon, whenever I hear his name the first thing that comes to mind is A-Rod hitting three home runs off him in one game in 2005. Colon who despite looking like he might have eaten the bat boy is listed on ESPN.com as 185 pounds. I'm really hoping that's a typo, but regardless has a slim chance of making this team considering since winning a Cy young he's made 47 starts in the passed six years and pitched to a 5.18 ERA. I don't care how good he looked in winter ball, I don't see those numbers dramatically improving.

As of right now although all three have pitched well so far, it looks like it will be Nova and Garcia in those last two rotation spots, pending Brian Cashman having some kind of Ace up his sleeve. There are some great young pitchers in the Yankees system like Andrew Brackman, Dellin Betances, and Manny Banuelos. Although these guys may not start the season in the majors remember there names because sometime in 2011 you'll likely see at least one of them in pinstripes at some point. Either way get excited it's baseball season, lot's of good stuff to come.