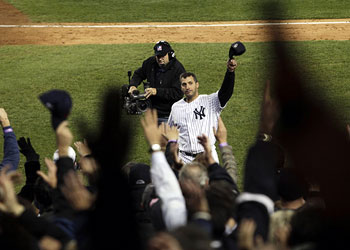 Andy Pettitte can see the end of his gratifying career approaching and can feel the number of games he might have left reduced to a precious few dozen. Pettitte is fine with that scenario, content with trying to help the Yankees fashion another memorable season before probably retiring.

"I can't just keep on playing," Pettitte said. "I need to get back home."

With no prompting, Pettitte veered from discussing how comfortable he has felt as a pitcher this spring to how uncomfortable he feels as an absentee father. When some players lament how much they miss their family because of the draining season, their words seem choreographed. When Pettitte says those same words, he seems sincere.

As soon as Pettitte vividly described how much it bothered him to see Josh, his 15-year old son, for only three days across a seven-week span, it confirmed what I had already thought about Pettitte in 2010. This will surely be his final season. Pettitte sounded like a proud pitcher who wants to squeeze one last season out of his left arm and then disappear to be a Mr. Mom in Deer Park, Texas.

"There are so many things going on back home and I'm not there," Pettitte said. "I can't keep asking my wife to take care of everything."

But, for now, Pettitte still has a full-time gig in the Bronx. After mentioning his wife, Laura, and their four children, Pettitte steered the conversation back to baseball and stressed how motivated he was to produce in his 16th season. He had a bundle of ice wrapped around his elbow, the elbow that almost caused him to retire in 2006. The ice was part of a post-workout routine. The elbow, Pettitte said, felt strong.

Through excessive elbow pain, lots of starts where his cut fastball wasn't cutting and an embarrassing period following the Mitchell Report, Pettitte has been a ferocious competitor and a perfectionist. During all of his 229 career wins and 18 postseason wins, Pettitte has scolded himself on the mound. He will verbally batter himself for missing a spot or for dropping his arm angle. Pettitte will undoubtedly scold himself during his last spring start against the Baltimore Orioles on Friday, too.

Before Pettitte ambles away from the game, he has a plan for how he wants 2010 to unfold for the Yankees. Any eight-year old Yankee fan could write the script that Pettitte envisions because it is every fan's script, too. Pettitte thinks the Yankees could and should win their second straight championship. That would make the getaway from a stellar left-hander to a left-handed Mr. Mom even smoother.

"I don't see any reason why we shouldn't feel we can win it again," Pettitte said.

Since the 37-year old Pettitte is the oldest starter in the rotation and is beginning his 13th season in New York, he explained that it is his responsibility to be a mentor to the other pitchers. Pettitte's most important student will be Javier Vazquez, who will pitch behind Pettitte in the rotation. Pettitte gushed about how Vazquez is a significant addition and vowed to make sure Vazquez does not get unsettled.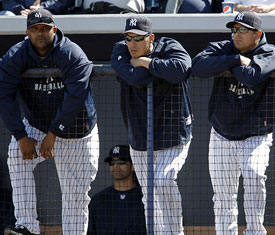 While Pettitte is usually humble, he explained how he mentored CC Sabathia about the intricacies of pitching in New York last season and how he will "stay on" Vazquez to make sure that his second tour with the Yankees has a rosier ending. To me, Pettitte's revelation was another sliver of evidence that he wants to help orchestrate his own fond farewell.

"I've got to be a mentor here," Pettitte said. "I don't really like talking about doing that kind of stuff. But CC (Sabathia) talked about how I helped him last year so I figure it's all right to talk about it."

For most of the spring, Pettitte has been the invisible pitcher as he has only logged four innings. Officially, that is. Pettitte has actually pitched more than that, but some outings have been in simulated and intra-squad games. Not facing Major League hitters was no problem for Pettitte, who insisted he will know what Dustin Pedroia and Kevin Youkilis look like next week at Fenway Park.

When Pettitte was a rookie trying to make the Yankees in 1995, I remember how nervous he was about the future one morning in Fort Lauderdale, Fla. He mentioned how his uncertain status prevented him from telling Laura whether they should plan to be in New York with the Yankees or in Columbus, Ohio, with the Triple-A team. At the time, Josh was a few months old. Pettitte ended up being a mainstay with 12 wins in the Majors.

Fifteen years later, Pettitte was talking about baseball and family again. He wasn't nervous anymore. He was content. Pettitte has earned more than $100 million and won five World Series rings because he is so adept at throwing a baseball. He is about to do it for another season, a season that could be his last.