WASHINGTON, D.C. -- The stalking will begin early. The Yankees and the Boston Red Sox don't have to wait a week or a month to play each other. They get to do it in the first game of a new season, which is a perfect opener on Sunday night. The comparisons between the teams never cease. So why delay the inevitable?
Why wait to compare CC Sabathia and the Yankees' rotation to Josh Beckett and the other Red Sox starters? Why wait to assess the new Yankees like Curtis Granderson and Nick Johnson against the new Red Sox like Mike Cameron and Marco Scutaro? Why wait to see the first night of Boston's not-so-revolutionary strategy of stressing run prevention in conjunction with run production?
Wrestle with these comparisons and others while the Yankees and the Red Sox are side-by-side in Boston. Keep comparing the rivals during the three-game series, and then let the evaluations continue all season. That endless analysis will happen with them anyway. This scheduling simply means the hype-o-meter gets percolating sooner.
"Every time I turn on ESPN, that's all I see," said Red Sox Manager Terry Francona. "I guess we're just so caught up with trying to win. I'd rather open up against Buffalo. No disrespect to Buffalo. Maybe they're going to be good this year."
Buffalo? Francona would rather face that fantasy team because facing the Yankees is a draining way to march into 2010. Every inning between the Yankees and Red Sox, regardless of when or where, is scrutinized more than when they play other teams. In fact, Francona playfully said he is anxious to gauge the post-series reaction because it will tell him if the Red Sox are going to win it all or if their season will be over after three games.
While both teams have 0-0 records, the Red Sox are chasing the Yankees. The Yankees won a World Series title six months ago and made smart moves by acquiring Javier Vazquez from the Atlanta Braves and Granderson from the Detroit Tigers. Until further notice, the revamped Red Sox -- who have changed four players from their 2009 opening lineup -- are doing the stalking.
As confident as the Red Sox are, they are also comfortable about ceding the favorite role to the Yankees. What one team utters about another team can be irrelevant, but I think the Red Sox like the notion of slotting themselves behind the Yankees. My theory is that the Red Sox privately believe they have a talented club and they don't mind being plopped behind the Yankees as they push to surpass them.
Before Boston's exhibition game at a sunny Nationals Park on Saturday, I presented this theory to Francona. He smiled slightly. He didn't dispute the theory before concluding, "I think we're going to be O.K." That might mean the theory was accurate.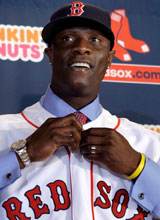 The Red Sox are underdogs to the Yankees in the same way that Warren Buffett is a financial underdog to Bill Gates. They have a very good team, one of the best in baseball. General Manager Theo Epstein improved the defense by adding Cameron in center field, Scutaro at shortstop and third baseman Adrian Beltre and also signed John Lackey to strengthen a deep rotation. We have heard how defense will help the Red Sox win more games. We haven't heard enough about the rotation.
In Beckett, Lackey and Jon Lester, the Red Sox have three pitchers who have been or could be number one starters. Clay Buchholz has superb stuff but needs to mature to be a serious contributor. Tim Wakefield is a reliable back of the rotation starter, while Daisuke Matsuzaka is an ongoing project. The Yankees counter with Sabathia, who might be the premier pitcher in the American League, and a solid supporting cast of A.J. Burnett, Andy Pettitte, Vazquez and Phil Hughes. Joba Chamberlain is the Yankees' ongoing project.
The comparisons between the sturdy rotations will persist all season. That intensity in the rivalry is one of the reasons Cameron is excited to leap into the world of Yankees-Red Sox. Cameron predicted that Sunday's atmosphere would be "crazy," which is why he must stay relaxed. When two autograph-seeking fans both flipped baseballs at Cameron, he caught one baseball in each hand, never dropped his pen and maintained a conversation with me. So I'm guessing Cameron knows how to stay relaxed.
"I'm going to just treat it like a regular game because I don't want to be like, 'What if I don't do this?,'" Cameron said. "I'm going to dive, slide, run my butt off and take CC off the wall."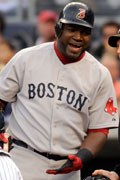 Despite Boston's stellar pitching and defense, David Ortiz might be the most critical player on the Red Sox. These Red Sox are not the Manny Ramirez-Ortiz Red Sox anymore. They are not even the Jason Bay-Ortiz Red Sox. Big Papi can't go zero for the first two months, as he did in 2009. If Ortiz sputters for a lengthy period, the Red Sox might search for another power hitter.
Why wait to see Ortiz spit into his gloves for the first time and try to be intimidating again? Why wait to hear whether Derek Jeter or Alex Rodriguez gets booed more lustily? Why wait to officially begin the yearly Yankees-Red Sox tussle that never ends?
This season, we don't have to wait. Let the stalking begin, in both cities.