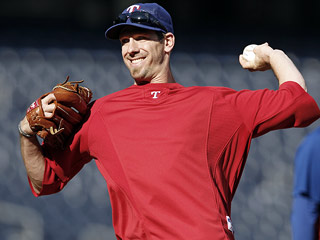 Marcus Thames has faced Cliff Lee 36 times in his career. By Sunday afternoon, Thames had analyzed the videotape of every one of those at-bats, searching for some clues about how to hit the supposedly unhittable postseason pitcher.

Thames studied the pitches he missed, the pitches he fouled off and the pitches he didn't swing at, rewinding and fast-forwarding through his dates with Lee. Eventually, Thames discovered a pattern, a sliver of information that he hopes will help him in Game 3 of the American League Championship Series on Monday night.

"In every at-bat I had, I usually had one pitch to hit," Thames said. "Even in the at-bats where I struck out against him, I had a pitch and missed it. You can't miss that pitch."

Thames has seven hits, including three homers, and 15 strikeouts in his 36 at-bats off Lee, an uninspiring .194 average. But, despite the disappointing average and despite Lee's remarkable ability, Thames was eager to face the pitcher who has hovered over this series without even firing a pitch.

When Thames was with the Detroit Tigers and they opposed an intimidating pitcher, manager Jim Leyland would motivate his players by reminding them that those were the games where they had to challenge themselves. They were Major Leaguers because they were the best players in the world, so they needed to beat the best pitchers, too, Leyland would say. As Thames recalled Leyland's words, he smiled. It was almost as if Leyland was sitting on his shoulder in the Yankees' clubhouse.

"You can't go out there with your hands all sweaty because of the name," Thames said. "You have to compete."

Every pitcher makes mistakes, even the Hall of Famers and even the pitchers who are 6-0 with a 1.44 earned run average in the postseason. Those are Lee's ridiculously gaudy statistics. Kevin Long, the Yankees' batting coach, said starting pitchers usually make about 10 or 12 mistakes a game. By mistakes, Long meant pitches that are elevated in the strike zone or pitches that catch too much of the plate.

As much of strike-throwing machine Lee was while walking 18 batters in 212 1/3 innings this season, and none in 16 innings in the postseason, he is human. He will miss his spots, just like any other great pitcher. If and when Lee misses his location, the Yankees must pounce.

"You're going to get, hopefully, one pitch to hit every at bat," Long said. "You can't foul it off. You can't miss it."

Other than Derek Jeter, who has a .432 average against Lee, the Yankees' starters are usually patient. But one American League scout said that the Yankees should shelve their patient approach against Lee because he is amazingly consistent with throwing strikes. If a batter tries to wait Lee out, there is a good chance he will be behind in the count. Jeter's success off Lee could stem from the fact that he routinely attacks on the first pitch.

While Jeter praised Lee as a pitcher who "is as good as anyone in baseball right now," he was also mindful of embracing the challenge of trying to conquer Lee.

"We've faced a lot of pitchers throughout the years that have had great reputations," Jeter said. "Reputation doesn't win games. You still have to go out there and pitch."

Three months ago, general manager Brian Cashman thought he had acquired Lee from the Seattle Mariners. Instead, the Mariners did an end around in their negotiations and sent Lee to the Rangers. Cashman wasn't interested in revisiting those discussions, but said, "I took a shot. It didn't work out."

Now the Yankees must try and defeat the left-hander that Cashman said is "allergic to walks." Because Lee tosses so many strikes with his fastball, slider, cutter, curveball and changeup, Cashman said he "takes away" your plate discipline, one of the Yankees' strengths. Still, Cashman stressed that the Yankees' philosophy on patience is to swing at strikes, not wait for walks. Walks are a by-product of being patient.

The Yankees aren't likely to be patient against Lee on Monday night. I would expect the Yankees to emulate Jeter, a hitter who is always ready, willing and able to swing at the first pitch. Lee's first pitch might be the only one in the at-bat that was hittable. As Thames found out in his video search, there will be some pitches to hit. Just don't miss them.

Follow Jack Curry on Twitter.