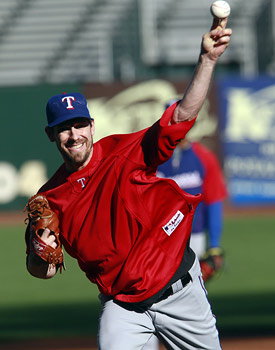 SAN FRANCISCO –- The Yankees wanted to face Cliff Lee one last time in 2010. Seeing Lee would have meant there would be a Game 7 against the Texas Rangers in the American League Championship Series. Seeing Lee would have meant the Yankees were one conquest away from the World Series.

Of course, the Yankees never faced Lee again. The Yankees sputtered in Game 6 and saw their season disappear. Looking more fatigued than ferocious against the Rangers, the Yankees kept getting smacked and jabbed by the feistier team. Lee's services weren't needed a second time in the series.

Now the Yankees will have a chance to see Lee's next postseason start from a distance, if they watch it at all. The Yankees can study Lee in Game 1 of the World Series against Tim Lincecum and the San Francisco Giants, and they can marvel at how someone can be so impeccable at spotting pitches on the fringes of the strike zone. Lee throws in and out or up and down, spotting baseballs as if his left arm is a laser pointer.

"He's like a machine right now," said Carl Willis, who was Lee's pitching coach for six seasons with the Cleveland Indians.

Then Willis laughed. Willis knows this routine, knows how Lee can morph into a trance on the mound and dominate hitters. For the legion of Yankees fans who dream of seeing Lee in New York, and who want to know who he is and what he is about, Willis is a reservoir of information.

When Willis talks about how tough Lee is, he has a story.

"If you told me there were two guys looking for me outside the clubhouse and I could take one guy with me to fight them, I'd take Cliff Lee," Willis said. "He would wear them down or he would just beat them from the beginning. He wouldn't lose the fight. They'd have to kill him."

When Willis talks about why Lee is so precise, he has an explanation.

"If you put a camera in the sky over him for a bullpen session in Spring Training or a postseason game in October, you wouldn't be able to determine which was which," Willis said. "When he's on the mound, he's so good about repeating his delivery. He'll throw 110 pitches in a game and he'll repeat his delivery 110 times. I think that's how he makes the baseball do what it does."

When Willis talks about why Lee is almost unbeatable in the postseason with a 7-0 record and a 1.26 ERA, he has a theory.

"He's simplified things," Willis said. "He knows the things he needs to do to be successful and he's prepared himself. In the postseason, he knows he's one more game or one more series away from a championship. In the back of his mind, I'm sure he's thinking that he's almost there."

In 2007, Lee started the season with an abdominal injury, limped to a 5-8 record and was sent to Class AAA in late July. Willis, who was the pitching coach for the Seattle Mariners last season, said Lee's demotion proved to be beneficial because it rejuvenated him and allowed him to become more focused on what he had to do to thrive with the Indians.

The Major Leagues can be a chilly place, especially for injured or underachieving players. Once Lee spent over a month in the Minors, Willis said Lee "really appreciated" where he had been. As hard as players work to reach the Majors, Willis said they must work even harder to stay.

One year later, Lee had rebounded to become one of the premier pitchers in the AL. Willis said Lee always had excellent command of his pitches when he was throwing inside to right-handed batters or outside to left-handed batters. But Lee didn't have the same accuracy to the opposite side of the plate: inside to lefties and outside to righties. Lee found that command two years ago and went 22-3 with a 2.54 ERA.

While the Yankees will never know how they would have done against Lee in a potential Game 7, he had dominated them in Game 3. Would the Yankees have managed to make adjustments against Lee? Both Willis and Kevin Long, the Yankees' batting coach, said hitters must pounce on Lee's handful of mistakes or he will exasperate them.

The next time the Yankees will see Lee is on TV. After that, who knows? There is a good chance the Yankees will see Lee in their dugout next season. The Yankees have had internal discussions about how much they would be willing to offer Lee, the jewel of the free agent class and a pitcher who might demand a six-year $150 million contract.

Several days ago, the Yankees missed out on getting to see Lee again in the ALCS. They don't want to miss out on getting Lee, too.

Follow Jack Curry on Twitter.