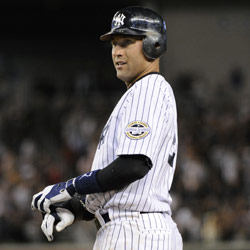 The meeting lasted about four hours on Tuesday night, hours in which the Yankees talked, Derek Jeter listened and then Jeter talked and the Yankees listened. While there has been contentiousness in the negotiations between two sides that need each other, this meeting was respectful and polite.
Although Jeter and the Yankees didn't come close to an agreement on Tuesday, people who have been briefed on the discussion said it was a vital development in the negotiations. The meeting enabled the Yankees to reiterate that they wanted Jeter and allowed Jeter to reiterate that he wanted to finish his career as a Yankee. After the verbal sparring over Jeter's value, delivering those words face-to-face was important to igniting the stagnant talks.
Casey Close, Jeter's agent, contacted Hal Steinbrenner, the Yankees' managing general partner, on Tuesday to request the meeting. Before Close called, the sides hadn't formally negotiated in over three weeks. Close, Jeter and a lawyer from Creative Artists, the agency that represents Jeter, met with Steinbrenner, general manager Brian Cashman and Randy Levine, the Yankees' President in Tampa.
The Yankees have offered Jeter a 3-year, $45 million contract, a proposal that they believe is strong and fair. At the time the Yankees made their offer to Jeter, who is 36, it would have made him the highest-paid middle infielder in the Major Leagues. Troy Tulowitzki has since signed a 7-year, $134 million extension with the Rockies, meaning he will earn $157 million across the next 10 years. That computes to an average salary of $15.7 million for a power-hitting shortstop who is a decade younger than Jeter.
Following a sluggish season in which Jeter batted a career low .270 and had a career low on base percentage of .340, the Yankees feel they are compensating Jeter handsomely. Hanley Ramirez of the Marlins and Chase Utley of the Phillies, two of the premier middle infielders in baseball, have average salaries of about $12 million a year.
When the Yankees have compared Jeter to current players like Ramirez and Utley, Close has argued that Jeter should be compared to Hall of Famers like Babe Ruth and Joe DiMaggio because he has helped guide the team to five championships. Close mentioned the idea of a 6-year, $150 million deal, but Jeter is now asking for a 4 or 5-year deal for about $23 million a year.
Since the Yankees have offered Jeter $15 million a year and Jeter has asked for $23 million, some observers have proposed that the sides should split the difference and settle on $19 million. The Yankees don't want to do that because they feel that they would be bidding against themselves. There hasn't been a team that has publicly expressed interest in signing Jeter. The Dodgers and Giants recently signed Juan Uribe and Miguel Tejada, respectively, as their shortstops. Also, the Yankees don't want to inflate their offer simply because Jeter's side has asked for such a lucrative salary.
The Yankees are reluctant to increase their offer to Jeter, but it is possible that they would boost it slightly if that helped finalize a deal. As the parties separated on Tuesday, they agreed to be creative in trying to forge an agreement and agreed to speak again soon.