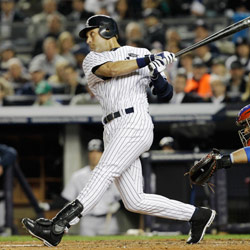 Derek Jeter has officially agreed to a three-year contract with the Yankees for between $15 and $17 million a year, according to a person directly involved in the negotiations. The deal includes a fourth-year option that isn't a vesting or club option. The deal was consummated on Saturday afternoon and is pending a physical.
The fourth year of the deal was important to Jeter, who said in spring training that he wanted to play four or five more seasons. But the Yankees didn't want to guarantee a fourth year to Jeter, who had the worst season of his career when he batted .270 in 2010 and who will turn 37 years old in June. The sides vowed to be creative in trying to secure a deal, which is why they were finalizing a hybrid option that will include various elements and won't be fully guaranteed. The sides met deep into the night on Friday and were talking again on Saturday.
As part of Jeter's deal, the Yankees have convinced the shortstop to defer an undisclosed amount of money. Mariano Rivera, who has agreed to a 2-year, $30 million deal, has also agreed to defer an undisclosed amount. The Yankees are confident that the contracts with their two legendary players will be completed by the time the Winter Meetings start in Orlando on Monday.