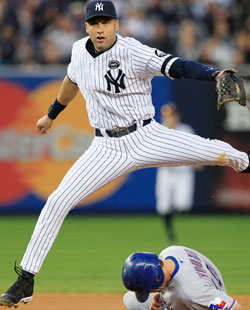 When the Yankees met with Derek Jeter last Tuesday, both sides promised to be creative in trying to bridge a gulf that existed in their contract negotiations. Less than a week later, that's exactly what the Yankees and their shortstop did in finally agreeing to a deal Saturday. The deal is pending Jeter passing a physical.
Jeter and the Yankees agreed to a three-year, $51 million contract that could also include a fourth year. Jeter has a player option for $8 million in the fourth year, which could boost his guaranteed money to $56 million. In addition, Jeter has the chance to earn up to $9 million in incentives in the fourth year.
The deal averages to $17 million for the first three years, which includes a $3 million buyout in the fourth year. If Jeter doesn't exercise the $8 million option in 2014, he will make $51 million. If Jeter exercises the $8 million option, he loses the $3 million buyout and is guaranteed $56 million over the life of the contract. But Jeter can increase his fourth-year salary by reaching some incentives. That is where the Yankees and Jeter got creative.
Jeter's contract includes a point system in which he earns points for winning the Most Valuable Player Award or finishing in the top six in the voting, for winning the Silver Slugger Award, for being named MVP in the World Series or the League Championship Series, or for winning the Gold Glove. If and when Jeter notches any of those incentives, he will earn an undisclosed amount of points. After three years, those points will translate to a dollar amount, which will be added to Jeter's salary in 2014. Jeter can earn as much as $9 million in incentives, so the maximum amount he could earn in the final year of the deal is $17 million. The most Jeter could earn in all four years is $65 million.
If Jeter doesn't maximize the $9 million in incentives across the first three seasons, he also has the chance to earn points in the fourth year of the contract and therefore add to his $8 million salary. In addition, Jeter agreed to defer some money in the deal.