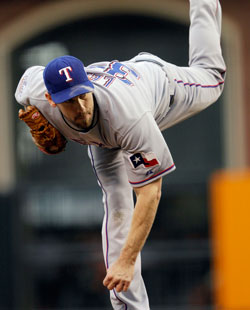 LAKE BUENA VISTA, Fla. –- During Brian Cashman's conversation with Hal Steinbrenner on Thursday morning, Cashman told Steinbrenner that the Yankees were about to add a left-handed starter. Did that mean the team had finally signed Cliff Lee? Not yet. Cashman was referring to Robert Fish, the 22-year-old lefty the Yankees selected in the Rule 5 draft later that day.
That was Cashman's attempt at being playful and, ever so briefly, taking a respite from the questions about Lee. What Cashman didn't disclose is how he surely talked to Steinbrenner about increasing the team's offer to Lee to seven years, a move that came hours after the Red Sox agreed to a seven-year, $142 million contract with Carl Crawford. It is believed the Yankees are willing to pay Lee $161 million across seven years, which would match CC Sabathia's deal.
The Yankees are antsy about Lee, a pitcher they first tried to acquire in July and have been pursuing since early November. When the Yankees made Lee a six-year offer for about $140 million on Wednesday, there was a belief that they wouldn't improve it. But, if Crawford and Jayson Werth could secure seven-year deals, the Yankees felt it was necessary to do the same with Lee.
"I know what we're willing to do," Cashman said. "The player and his agent know what we're willing to do. I can't tell you if it's two, three, four, five, six, seven, eight, nine, ten years. We know. They know. That's all that matters."
Since the Rangers, the other club that has been pursuing Lee, seemed reluctant to stretch beyond a five-year deal, would a seven-year offer clinch Lee's signing? It would seem probable because no other team is likely to match the offer, but the Yankees were waiting on a response from Lee. Darek Braunecker, Lee's agent, has been a deliberate negotiator, which has helped the offers escalate.
Jon Daniels, the Rangers' general manager, declined to discuss any specifics, but looked somber as he invited reporters to "draw your own conclusions" about whether the team could compete with a seven-year offer. The Rangers were looking for answers from Lee on Thursday as team representatives traveled to Arkansas to meet with the pitcher. A baseball official said the Rangers were prepared to boost their offer to six years. But would the Rangers go to a seventh year?
"We have to be concerned about seven years because seven years is really stretching it out," Nolan Ryan, the Rangers' president, told ESPN Radio. "And I don't know how you predict how anyone is performing six or seven years from now."
As word about Crawford's agreement with the Red Sox leaked out late Wednesday night, there were visible reactions at the Walt Disney World Dolphin Hotel. A Red Sox official scampered across the lobby. Some fans screamed and gave each other high-fives. Reporters reached for their phones to try and confirm the news.
About a half hour after the news broke, I found Cashman in the lobby. When I asked Cashman what he thought about Boston's splashy signing, he shook his head. Cashman said the Red Sox had made major improvements and would be an even tougher rival. He reiterated those thoughts Thursday.
"They've got a great team," Cashman said. "They had two huge acquisitions. They're loading up like they always do, but this is even more significant than a typical Red Sox reload. So they've done a great job so far."
Cashman had dinner with Crawford's agents on Tuesday, which was a bluff and was probably designed to get the Red Sox to inflate their offer to the leftfielder. The Yankees never made an offer to Crawford, and Cashman conceded that the Yankees weren't interested in signing him. The Red Sox made an offer to Mariano Rivera, who the Yankees then signed quickly, and they also made a seven-year offer to Lee. Cashman might have been returning the favor by feigning interest in Crawford.
Although the Yankees added a seventh year to their Lee offer, Cashman insisted that he wasn't impacted by what the Red Sox did with Crawford. Cashman has been on a mission to get Lee for a long time and, regardless of what happened with Crawford, that mission hasn't changed.
"Our desire is the same today as it was prior to that signing," Cashman said. "I don't think you can increase [that desire] anymore. We have a significant interest in Cliff Lee and we communicated that. They know it."