TAMPA -- Jesus Montero has never played in a Major League game, something that doesn't faze him because he knows it will soon change. If Montero makes the Yankees as the backup catcher to start the season, it will change. If Montero joins the Yankees later in the season, it will change, too. Montero's ascension will soon be a reality.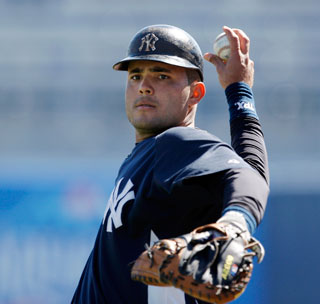 As Manager Joe Girardi discussed Montero's future on Wednesday, he offered indications that Montero will be Russell Martin's backup. Girardi wants to study Montero's catching abilities across full Spring Training games to see if Montero maintains defensive consistency, but he sounded enthused, not reluctant, about having Montero in the big leagues.
"Look at what they did with Buster Posey," said Girardi, referring to how the Giants promoted Posey from the Minor Leagues last May, made him the starter and smiled as he helped guide them to a championship.
Girardi wasn't predicting that Montero will supplant Martin and usher the Yankees to a World Series title, as Posey did in San Francisco. That would be a bold prediction, especially since Montero is not nearly as adept defensively as Posey. But Girardi was stressing that Montero is talented enough to be a valuable player this season, even at the age of 21.
When the Yankees evaluate Montero's readiness for the majors, Girardi said they will ask themselves two questions: Is he ready to play in the majors? Can he help the Yankees win games?
"If those two things line up," Girardi said, "there's a pretty good chance we'll take that player."
With Montero, the questions are always about his defense. Scouts feel Montero will have no problems flourishing as a Major League hitter. Montero, who batted .351 with 14 homers in his last 44 games at Triple-A Scranton-Wilkes Barre in 2011, is a .314 lifetime hitter.
Cesar Presbott, a Yankees' scout, noted how Montero has excelled at every Minor League level and said he "will hit for power and for average." The notion of Montero hitting .300 and also hitting 30 homers isn't far-fetched. Baseball America ranked Montero's as the Yankees' best prospect and as one of the top five prospects in baseball.
"I don't think about that," Montero said. "In the big leagues, it's not about prospects. It's about winning. I like to help the pitcher and win games. I don't put those other things in my mind."
Montero knows he has flaws as a catcher, which is probably why he mentioned how he is studying the Yankees pitchers and trying to get better at calling pitches. Girardi said he wants to see Montero call a smart, consistent game, protect the signs as he delivers them, block pitches and have a presence behind the plate. During fielding drills on Wednesday, Montero had a presence because he had the strongest arm amongst the catchers. Montero's arm wasn't the most accurate, but it was the most noticeable.
In defending Montero last summer, General Manager Brian Cashman said the Yankees were confident that he was developing into a decent catcher. Montero threw out 23 percent of would-be base stealers and also had 15 passed balls in 123 games last season. Presbott said Montero was "raw," but that "he had the tools to improve" and he was "in the right place to improve."
Although some scouts believe Montero might eventually be better off as a designated hitter or a first baseman, Montero dismissed that speculation.
"I've been behind the plate for four years," he said. "I don't want to throw that all away. I want to catch. I want to be a catcher for the Yankees."
The Yankees must decide if Montero can help them win and also must determine if it behooves him to play part-time in the Majors instead of full-time at Triple-A. Girardi said Montero could benefit playing twice a week with the Yankees because he and Tony Pena, a former Gold Glove catcher, could tutor Montero every day.
The more Girardi discussed Montero, the more he gave subtle signs that he liked the notion of having Montero on the team. The 21-year old is a hitting savant and a catching apprentice, but Girardi sounded amenable to on-the-job training. Girardi said "there could be enough at-bats," for Montero in New York, which means that soon, very soon, Montero might be changing from Minor Leaguer to Major Leaguer.
Follow Jack Curry on Twitter.