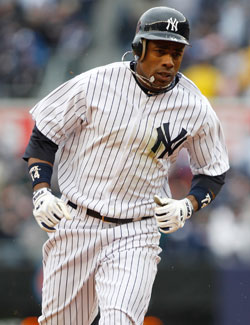 Curtis Granderson's overhauled swing didn't automatically surface the first day that he swung a bat in Spring Training. It took time. It took work. The magical swing Granderson used from the middle of August until the end of the season had to be discovered again, nurtured again.
Granderson began the process by doing the same drills that Kevin Long, the batting coach, had used to help him rebuild his swing. He hit baseballs that were softly tossed to him, he hit baseballs off a tee and he hit baseballs inside a netted cage, dutifully working to feel the same way that he felt several months ago.
"You have to find it again," Granderson said.
On Opening Day, it was obvious that Granderson had found it. For at least one memorable day, Granderson found his swing and found his verve. Granderson drilled a tie-breaking homer off Phil Coke and dashed around center field with the sort of style and skill that he has not routinely displayed as the Yankees quieted the Tigers, 6-3.
It didn't hurt Granderson's memorable day that he homered off a left-hander whom the Yankees included in a three-team trade to acquire him, or that Austin Jackson -- who was a bigger piece in the deal -- was the second-best center fielder at Yankee Stadium. By the way, it wasn't even close: Jackson struck out three times in four at bats. It was one game, but the Yankees hope this was a preview of what lies ahead for Granderson.
When teams analyze their rosters, they often talk about players who can accomplish more than they did in the previous season. That is one way to speculate how teams can improve, especially teams that didn't make many lineup changes. Granderson is a player the Yankees have discussed as someone who should be better in 2011 than he was in 2010, when he hit .247 with 24 homers and 67 runs batted in.
It is foolish to review Granderson's first season in New York without dividing it into two parts: Before Granderson had a three-day tutorial with Long in August and after Granderson returned to the lineup. Long counseled Granderson to stop moving his hands before swinging, to move his feet closer together and to keep both hands on the bat in his follow through. After Long revamped Granderson's swing, Granderson hit 14 homers in the last six weeks of the season.
In addition to Granderson's surge in power, he was also more comfortable against lefties, as he batted .286 with three homers in 56 at bats. Before Long's sessions, Granderson hit .206 off lefties and had only one homer in 102 at bats.
How Granderson performs versus lefties was immediately one of themes in the season opener. With the score tied, 3-3, in the seventh, Jim Leyland, Granderson's former manager, used Coke to open the inning against Granderson. It was the right move. Leyland watched Granderson hit .199 off lefties in his last year in Detroit. But Coke put himself in a terrible position by falling behind 2-0 in the count. When Coke threw an 89-mile per hour fastball, Granderson must have felt as if Long was flipping him soft toss. Granderson belted the pitch into the second deck.
"For me, it's just continuing to prove that I can do it, because I've done it," said Granderson, whose playing status was in doubt until Wednesday because of an oblique injury.
In The Bill James Handbook, there is a section called "The Fielding Bible Awards," to designate the premier defensive players in baseball. Granderson is listed as the eighth-best fielding center fielder, which I think is a fair ranking. Michael Bourn was rated as the best center fielder while Jackson is listed as the fourth-best defensive center fielder. Scouts have told me that Brett Gardner, who is ranked as the best left fielder, is a better center fielder than Granderson.
But, in the season opener, Granderson made three superb plays, the kind of plays he didn't make consistently last year. Granderson was playing shallow when he rushed in to make a diving catch for the second out of the game, he glided to his right to make a pivotal catch in the sixth and he hustled back toward the warning track to snare a flyball for the second-to-last out of the game. So Granderson came in, went to the side and retreated, doing everything a center fielder needs to do.
"He has been a different player for us, the last three months of last year, including the playoffs," Manager Joe Girardi said. "He looks great."
Granderson visited New Zealand as a baseball ambassador in January, and participated in some clinics. On one sleepy day, the kids were shy. Finally, one boy asked Granderson if he had ever met Jay-Z. Granderson nodded and said that he had met the renowned rapper.
"Once I said that, they were into it," Granderson said. "They were into everything I said."
On Thursday, Jay-Z was into everything that Granderson did as the rapper was one of the 48,226 fans at the Stadium. Jay-Z saw Granderson's magical swing and the superb catches. When Jay-Z watched Granderson, he was watching the best Yankee on the field.
Follow Jack Curry on Twitter: @JackCurryYES