Day after day in Spring Training, Jorge Posada explained how he had accepted being stripped of his job as the Yankees catcher and would embrace being the designated hitter. Every time Posada said it, I wondered if his words matched his thoughts. Posada is a proud catcher, a man whose career revolved around strapping shin guards to his legs and pulling a mask over his face.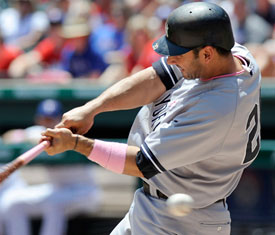 Finally, after hearing Posada methodically repeat how he would slide into the DH role without creating a ruckus, I cornered him in the clubhouse one day. Since Posada's tenure with the Yankees had been intrinsically linked to him being a durable catcher, I wanted to know if he really was content with merely being a DH.
"That's the way I need to approach it," Posada said. "If I don't do it this way, it won't be good for me or the team."
As Posada's saga unfolded on Saturday night, a saga that turned from surprising to puzzling to messy to even messier, I recalled our conversation from February. Posada is a team player, a stubborn, emotional, successful player who has always been focused on how he could make the Yankees better. I've covered players who were more concerned about themselves than the team. Posada isn't one of them. He has produced, he has played hurt and he has scolded teammates when necessary.
That is why Posada's actions on Saturday were surprising, even shocking. After Posada learned that he would be batting ninth against the Red Sox, he initially told reporters that he had brought that situation on himself by batting .165. He wasn't happy with batting ninth, but he didn't criticize manager Joe Girardi or the Yankees. He grudgingly accepted it.
But, about two hours later, Posada wasn't accepting the lineup demotion. Posada marched into Girardi's office and said that he couldn't play because he needed to "clear my head." Girardi said that he didn't ask Posada any questions. Other Yankee officials did. With less than an hour before the first pitch, General Manager Brian Cashman tried to coax Posada into playing. But officials said Posada felt insulted by being asked to hit ninth.
When the Yankees announced that Andruw Jones had replaced Posada in the lineup, and didn't explain why, it was evident that something was awry. Cashman later disclosed that Posada asked out of the lineup and added that Posada's request wasn't related to an injury. The Yankees said Posada would address his situation after the game, leading to speculation that he might retire.
The notion that Posada would retire, would walk away from what is left on the $13.1 million he will earn this year, seemed remote. I wanted to see how remote it was so I contacted Jorge Posada, Sr., the DH's father. Posada, Sr. immediately dismissed that idea.
"No, no, no," he said. "He will play all year."
Posada, Sr. explained that it had been a frustrating season for his son because he hasn't been hitting and because he is no longer catching. But Posada, Sr., who is a scout for the Rockies, said that Posada should have played on Saturday. Sometimes, the father said, athletes make "a bad decision."
It's not easy for one player to overshadow a Yankees-Red Sox game, but Posada did. The Red Sox silenced the slumping Yankees, 6-0, but the focus after the game was on Posada. During the game, Laura Posada, Jorge's wife, had tweeted that her husband had back stiffness and that's why he didn't play. That contradicted Cashman's statement. Posada also didn't mention any injury to Girardi.
The Yankees were angry with Posada for pulling himself from the lineup and forcing Girardi to be one player short as they fought the Red Sox. Although Posada hasn't been hitting, he had 42 at-bats off Josh Beckett and would have been a better option than Jones. Girardi was mad, Cashman was mad and senior executives were mad, too. Some of them still are perturbed.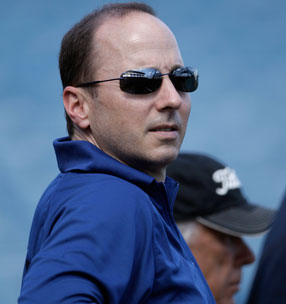 For seven rambling minutes, Posada tried to explain himself. He said that he needed a day off to give himself a mental break, but he didn't say it was related to batting ninth. He said his back was stiff, but that it wasn't a serious issue. He said that the Yankees had disrespected him a bit, which was surely a reference to his losing his catcher's job. He criticized Cashman for discussing his absence from the lineup during the game. Cashman fired back and told reporters that Posada was aware that he planned to talk to the news media.
It was an awkward seven minutes for Posada. If Posada could hit rewind on his life and have a do-over, I think he would. I think he would rewind to Saturday at about 6 p.m. and not march anywhere near Girardi's office. I think he would have decided to play, to hit ninth and to try and help the Yankees win, something he has done in glorious fashion and has done hundreds of times.
Of all the things Posada said in front of his locker, there were two sentences that resonated with me. They were the two sentences where Posada, a very good guy and very good player who made a bad decision, tried to hit fast forward. It was too late to hit rewind.
"I still want to be here," Posada said. "Hopefully, we can move on."