I love baseball and I love music. I was fortunate enough to get a job with The New York Times where I wrote about baseball. Now I work for the YES Network and I talk about baseball. I've never had anyone offer me money to write about or talk about music. Guess what? I've done it anyway.
Whenever I could filter some music into a baseball story, I've rushed to do it. That's why I've talked about Biggie Smalls with Barry Bonds, about Johnny Cash with Gene Monahan, about Warren Zevon with Bill Lee and about Cindy Bullens with Tim Wakefield. If there's a way to jam some music knowledge into my baseball coverage, I will make it happen.
Because of my dual passions, Bernie Williams, the graceful center fielder and graceful guitarist, was a treat to cover. I started covering the Yankees for The Times in 1991, which was Bernie's first year with the Yankees. While I watched Williams grow into a player who helped the Yankees win four World Series titles, one of the most interesting moments I ever covered with Williams involved music. I joined Williams on a tour of South America and saw him strum his guitar with college students in Barranquilla, Colombia. When the lights in the auditorium went out, no one minded. The music was that soothing.
Anyway, since Williams will be making his first appearance at Old-Timers' Day for the Yankees on Sunday, it seemed like the perfect time for another story that blended baseball and music. After the Yankees won the 1998 World Series, Williams was among a group of musically-talented major leaguers who were asked to perform a live show in Orlando, Florida. The players were supplemented by a house band and several other musicians. Those musicians included Clarence Clemons, the cool saxophonist for Bruce Springsteen's E Street Band. Clemons, of course, died of complications from a stroke on June 18.
Loren Harriett, who subsequently produced Williams's two albums, coordinated the players and the band 13 years ago. Harriet's plan was to have Clemons burst on stage to help the band play "Glory Days," a Springsteen about a baseball player who constantly harkens back to his early years. There was no sax solo in that song, but Clemons told Harriet that he would create one. The song was the finale of the event.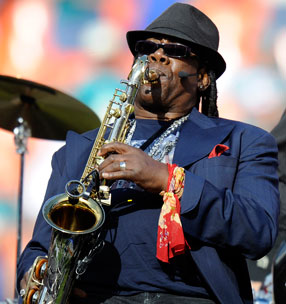 Gibson Guitars, which sponsored the event, had created a "Gibson Guitar Baseball Bat" as a gift for the players and musicians who participated in the show. When Clemons got the guitar bat, he asked Harriet to help him get autographs. According to Harriet, the first person who signed Clemon's guitar bat was Williams. Williams signed the guitar bat on the sweet spot. If Clemons ever actually hit a ball in that spot, Williams told him it would go a long way.
Once Clemons secured Williams's autograph, he wanted an autograph from Trevor Hoffman. Hoffman, whose San Diego Padres had just lost to Williams's Yankees in the World Series, had played some percussion at the event. Hoffman didn't want to sign the guitar bat. As a pitcher, Hoffman said it violated protocol for him to sign a bat, even if it was a novelty guitar bat.
But, because Clemons was so affable, Hoffman said he would make an exception and agreed to sign the guitar bat. Hoffman signed Clemons' bat on the handle. If Clemons ever connected with a ball on the spot where Hoffman signed it, Hoffman predicted that Clemons would dribble a ball to the pitcher. Clemons thought that Hoffman's compromise was hilarious.
As someone who first listened to Springsteen's music as a 13-year old kid, I've always had a deep respect for Clemons. I'm saddened that the Big Man has passed on and that the E Street Band will never be the same. Because of an assist from Harriet, I'm glad I finally got to write about Clemons. It was another column that was disguised as a baseball piece, but was really about music.

Follow Jack Curry on Twitter: @JackCurryYES