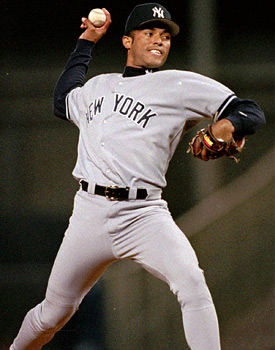 The skinny kid in shorts and a T-shirt was watching the Yankees play an exhibition game at Fort Lauderdale Stadium in 1993. The only reason I noticed him is because he was positioned behind a fence that was alongside the Yankees' dugout. That was a place where reporters congregated. We could peek at the game and also monitor if George Steinbrenner emerged from an office trailer that was about 100 feet away.
As the kid talked to a fan, I soon realized he was a Yankee Minor Leaguer and I became intrigued by his words. The kid explained how he had undergone right elbow surgery, how he was going to return soon and how, someday, he would pitch in the Major Leagues.
"I'll be there," the kid said. "You will see."
I had no idea who this kid was. After asking a team official, I learned that the kid was someone named Mariano Rivera. The undrafted free agent had been 5-3 with a 2.28 earned run average and 42 strikeouts and 5 walks in 59 1/3 innings at Class A Fort Lauderdale in 1992, but then he needed surgery. He was a long way from the Major Leagues.
As Rivera stood on the mound Monday and accepted the adulation from the fans for his record-breaking 602nd save, I thought that about that scene from Fort Lauderdale. I thought about how Rivera, who didn't have an overpowering fastball back in 1993 and hadn't even learned to throw a cut fastball yet, was already bursting with confidence.
"I'll be there," the kid said. "You will see."
The kid made it there. Rivera debuted with the Yankees in 1995, dominated as a superhuman setup man on a championship club in 1996, moved into the closer spot in 1997 and developed into the best closer in baseball history. He didn't need the record to validate that he is the best closer ever, but it's more poetic for Rivera to have the most saves. Rivera also has 42 postseason saves, a number that has as much significance as 602.
Rivera's 602nd save was a microcosm of his career. He threw 13 pitches in the ninth against the Twins, 12 of them were cutters. He notched a groundout, he shattered one bat, he bagged a soft fly ball and he secured the final out with an 0-2 cutter to Chris Parmalee. After Rivera's teammates hugged him, Jorge Posada and Alex Rodriguez pushed him out to the mound so the fans could adore him some more. He was a solitary figure in his second home, more uncomfortable at that moment than he ever is when he is actually pitching.
"He's the best ever," Derek Jeter has said.
In the sports world, we hype players all the time. Some of the noise is valid. A lot of it isn't. With Rivera, who should be a unanimous Hall of Fame selection, there really hasn't been enough hype during his career. As bizarre as that sounds, it's true. Rivera is so superb in such an understated fashion that the hype-o-meter hasn't churned enough. His career numbers are numbing, especially in the postseason.
As fascinating as it is to learn from Rivera when he pitches, it is also enjoyable to learn from him when he preaches. When you interview Rivera, you can receive an education. Rivera speaks deliberately and with a purpose, routinely supplying slivers of wisdom. He doesn't need to speak too long or too loud to make a compelling point. Sometimes, one sentence says it all.
Rivera emerged as an indispensable pitcher in 1996, a dazzling setup man who could pitch two or three innings in leading to closer John Wetteland. When I asked Rivera about his humble beginnings, he removed the lid from a shoe box and showed me how he would have used that type of box as a glove in Panama. Rivera explained how he would slice a hole in the cardboard and slip his hand through it, easily making his version of a glove.
"It makes me smile and it makes me happy to think about that," Rivera said. "It makes me feel good. I'll always have that inside of me."
In a subsequent interview, Rivera gushed about broomsticks. Yes, broomsticks. When Rivera and his friends played in Puerto Caimito, they didn't have bats. Most of the time, they used branches. But, if one of the kids was daring enough, he would swipe the family's broom and they would use that to play.
"That was trouble for us," Rivera said. "We had to get somebody's broom. Somebody's home would have to suffer for us to play."
In December of 1999, I had one of my most revealing interviews with Rivera. During a phone conversation, Rivera, who was had just been named the Most Valuable Player of the World Series as the Yankees won their second straight title, disclosed that he planned to pitch four more years and retire. At the time, Rivera was 30. He was two years away from free agency and had never hinted at retirement.
But, during that discussion, Rivera was adamant and repeated what he had said in Church two weeks earlier. In the midst of a sluggish outing against the Braves on July 16, 1999, Rivera said he heard a voice that said, "I am the one that has you here." Rivera said it was God's voice and that he was sent a message to pursue other things besides baseball.
"Without Him, I'm nothing," Rivera said. "I think it means that He has other plans for me, to deliver his word."
Rivera's revelation surprised the Yankees and surprised his agent. Brian Cashman, the Yankees' general manager, didn't want to comment because he hadn't spoken to Rivera. But Cashman mentioned how we all search for peace and how it seemed as if Rivera had found it. I asked Rivera a few times if he really envisioned himself leaving after the 2003 season and he repeatedly confirmed it.
"Inside of me, I'm thinking four more years," Rivera said. "That will be enough. I love the game, but I love God more."
Imagine if Rivera had stuck to his plans? Imagine how Yankees' history would have changed? But, about a year after Rivera revealed his plans to me, he changed his mind. Rivera said that he would play baseball as long as he could because he could use his status as a Yankee to help spread God's word. The Yankees have been relieved, year after year, that Rivera never retired.
If Rivera is sitting by his locker, the next lesson is one question away. In the spring of 2003, I asked Rivera about Jaziel, his 4-month-old son. Rivera told me how Clara, his wife, hemorrhaged after Jaziel's birth and how frightening it was. He gave me permission to interview Dr. Maritza Cruz, Clara's obstetrician. Rivera was so thankful for Dr. Cruz's care that he spoke at Brooklyn Tabernacle, her church, before 4,000 people.
"The one thing I've tried to do in life is be humble," Rivera said. "If you're humble and you give yourself to the Lord, He'll take care of you."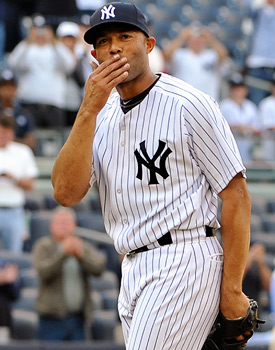 Conversations with Rivera aren't one-sided. He was also the rare player who would ask a reporter about his family. Several years ago, Pamela, my wife, was on the same New York-to-California flight as Rivera. She introduced herself. Of course, Rivera was a gentleman. When Pamela told Rivera that her business trip would last for more than a week so he might see me before she did, he joked and promised that he would say hello for her. Sure enough, when I next saw him at a game, he did say hello to me for my wife. We both laughed.
After Rivera met Pamela, he would always ask me how she was doing. He might ask me once a month or once every few months, but he always asked. When Rivera asked me about Pamela during the 2009 season, I hesitated to respond. It was a complicated answer. Eventually, I told him how Pamela had been stricken with Reflexive Sympathetic Dystrophy, a neurological syndrome that causes severe burning pain, extreme sensitivity to touch and pathological changes in bone and skin. According to the McGill Pain Index, it is the most painful form of chronic pain known to man.
"I will pray for her," Rivera said.
Now fast forward to November 4, 2009. Rivera was about an hour removed from closing out the Phillies in Game 6 of the World Series. After the champagne celebration in the clubhouse, the Yankees ushered players into an interview room. I was near Rivera and attempted to ask the first question.
"How is your wife?" Rivera interrupted.
Stunned by Rivera's question, especially at that time, I told him that she was doing better.
"Thank God," he said, and nodded.
I was shocked and appreciative that Rivera, in his time of glory, thought enough about me and Pamela to inquire about her. It was a 20-second exchange with someone that I have covered since 1995, but it is one of the most memorable exchanges I've ever had with a player. It was a vivid example of why Rivera is the rarest of people, not just the rarest of pitchers. He will be there. You will see.
Follow Jack Curry on Twitter: @JackCurryYES