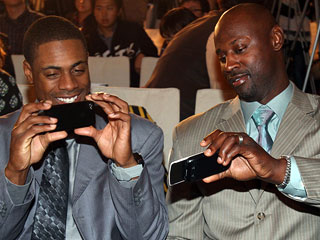 TAIPEI, Taiwan – When Curtis Granderson marched through the airport on Sunday afternoon, there were about two dozen reporters pointing cameras in his face. Granderson didn't blink. Instead, Granderson mimicked them because he was pointing a video camera right back at them.
"They're looking at me and I'm looking at them," said Granderson, who moved as briskly as if he was dashing from first to third on a single.
When Granderson was introduced at a press conference for the 2011 Taiwan All-Star Series, he happily waved to the dozens of photographers who were crowded inside a ballroom at the Grand Hyatt. The cameras clicked a little faster and a little louder, trying to capture Granderson's simple, smart hello.
A few minutes later, Granderson's smooth approach continued as he thanked numerous people and organizations who were involved in coordinating the games between the Major League players and the Chinese Taipei National Team. Granderson emphasized how he was looking forward to experiencing "everything" Taiwan has to offer, from the people, to the culture, to the food to the baseball. A publicist couldn't have written a more suitable answer.
Granderson is a professional athlete who gets it. He's so humble that he repeatedly refused to call himself a serious candidate for the American League's Most Valuable Player Award in 2011. That was ludicrous, of course, since he clubbed 41 homers, drove in 111 runs and scored 136. Still, when a Tawainese reporter congratulated Granderson on his MVP-type season, he offered thanks and then added that Cano had an MVP-type season, too.
There might not be a better ambassador in baseball than Granderson, who talks the talk and walks the walk. Well, actually, he talks the talk and travels the miles. In addition to this trip to Taiwan, he has visited Europe, New Zealand and South Africa to spread the gospel of baseball. Granderson is planning to visit Panama in December and might also go to Mexico, too.
"If I have these opportunities," he said, "why wouldn't I want to take advantage of them?"
During this trip, I've interviewed Granderson a few times and will interview him a few more times before it ends on Sunday. I plan to delve even deeper into his passion for combining travel and baseball. When Rob, my brother, and I were kids, we had a globe on our desk. Who didn't? Anyway, we'd spin that globe around and stare at places we'd never heard of and wonder what it would be like to do visit. I wonder if Granderson had a globe as a kid. He must have.
The Taiwanese are extremely proud of their players, especially former Yankee pitcher Chien-Ming Wang and the five others who have made it the Majors. That list includes Fu-Te Ni, a reliever who was Granderson's teammate with the Detroit Tigers in 2009. Naturally, a reporter asked Granderson about Ni.
Since Granderson and Ni were only teammates for about three months, there was a chance that they didn't have much interaction and a chance that the reporter wouldn't get much of a response. But, with Granderson, that possibility vanished. Granderson described Ni as an energetic player and recalled how Ni gave him an outfielder's glove from Taiwan. That purple glove is resting in Granderson's home as a show piece.
"It's cool to see your name written in Mandarin in the glove," Granderson said.
With the glove story, Granderson satisfied more than 100 reporters who were starved for any connection between him and Taiwanese baseball. After I told Granderson how much he had helped those reporters, Granderson, ever the ambassador, criticized himself for not doing more.
"I wish I could have remembered the name of the Taiwanese company that made the glove," he said. "I would've liked to have mentioned that."
Follow Jack Curry on Twitter: @JackCurryYES