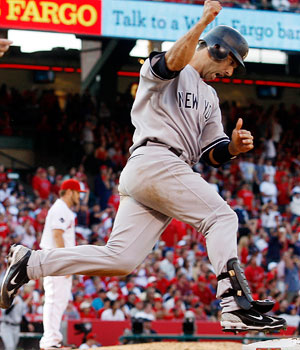 When Jorge Posada was seven years old, his father woke him on a Saturday morning and told him to get dressed for work. Jorge Sr. brought his son outside, gave him a gallon of paint and instructed him to paint a wall near their home in Puerto Rico. The experience wasn't about painting the wall, Jorge explained to me so many years later. It was about developing a work ethic.
The plan worked. For 15 years, Posada had a superb work ethic as a passionate player for the Yankees. Posada played the most difficult position on the field, he never groused about the rigors of catching and he was demanding of himself and of his teammates. If you wanted to bet on the Yankee who was most likely to confront a teammate, Posada would always be the safest bet.
We already knew that Posada wouldn't play for the Yankees in 2012, but now we also know that he won't play for another team, either. WFAN reported on Saturday that Posada has elected to retire, deciding that he would rather leave the sport as a forever Yankee than try to squeeze in one more year with Team X. I've always felt queasy about telling a player it is time to retire, but Posada's choice feels right. He has nothing left to chase. His legacy is superb and secure.
That legacy includes five World Series rings, 275 homers, 1,065 runs batted in, a .273 average, a .374 on-base percentage and a borderline Hall of Fame career. Beyond the statistics, that legacy also includes a stubbornness that was undeniable, a bluntness that was refreshing and a toughness that made it seem appropriate that he had a picture of Thurman Munson hanging in his locker. It was one tough, talented catcher honoring another tough, talented catcher.
In one of my first conversations with Posada in 1996, I asked him a simple question. Since I had heard his name pronounced as "Hor-hay" and "George," I wanted to know which he preferred. Posada looked me in the eyes and emphatically said, "It's Hor-hay." That exchange resonated with me because the Posada I spoke to that day was pretty much the Posada I spoke to for the rest of his career. Posada was direct and honest, proud and resilient.
Some players have the ability to answer questions without saying things that could get possibly push them into uncomfortable situations. Derek Jeter, Posada's close friend, is adept at doing that and at avoiding controversies. Posada never developed that skill or never cared to develop it. There was no filter with Posada.
Before the 1998 season, I interviewed Posada about his role with the Yankees. Posada had been Joe Girardi's backup in the previous season and felt that he deserved to be the starter. At the age of 26, Posada was tired of waiting for his chance.
"They keep saying I'm the catcher of the future," Posada said. "For me, the future is now." And, if that wasn't a candid enough response, he also added, "They keep saying I'm the future. By the time I get there, it's going to be too late."
The 1998 Yankees won 125 games and a title, with Girardi and Posada splitting the catching duties. Once Posada became the full-time starter, he was a highly productive catcher. While Posada will always be remembered as an offensive catcher, he had energy on defense and he cared. Was Posada an above average defensive catcher? No. But Posada was competent enough to be a major contributor on teams that won it all in 1998, 1999, 2000 and 2009. Posada received a ring in 1996, but he barely played.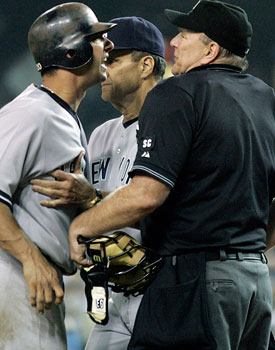 To know where Posada's feistiness came from, you need to know about Jorge Sr., his father. The elder Posada defected from Cuba in 1968, stowing away on a tobacco ship with a credit card and some water. Once Jorge, Jr. was born, he became his father's "project." The goal was to turn the boy into a Major League player.
That meant Posada was treated differently than the other kids. When Posada was eight, his father took away his aluminum bat and made him use a wooden bat. Although Posada was a natural right-handed hitter, his father only let him hit left-handed from the ages of eight to 13 so that Posada could hone his skills as a switch-hitter. As an 11-year old, Posada once went 21 straight at-bats without getting a hit from the left side. On the 22nd at-bat, Posada hit a homer and waved to his father as he ran around the bases.
As much toughness as Jorge Sr. and Jorge Jr. have exhibited in their lives, both men would say that Jorge III is the toughest Posada. Jorge III was born with a condition called craniosynostosis, where bones in the skull fuse together before the brain has stopped growing. Little Jorge had his first surgery as an eight-month old. When Posada disclosed his son's situation for the first time after the 2001 season, I wondered how he ever managed to focus on one at-bat. Posada said it helped that Jorge was "a tough little kid." The tough kid is now 12 and had his ninth and, the family hopes, his final surgery last year.
While Posada is retiring, he probably could have played another season. He had stellar statistics against right-handers during a trying season in which he caught only six innings, and he hit .429 in the Division Series. Posada made a dubious decision by pulling himself out of the lineup against the Boston Red Sox in May because he was upset about batting ninth. He acknowledged the mistake the next day.
One of my most interesting conversations with Posada came as we were both waiting to board a plane at Newark Airport. The plane was delayed so we talked a lot of baseball. At some point, the topic switched to performance enhancing drugs. Posada, who had just finished a 2007 season in which he hit .338 with 20 homers and 90 RBIs, knew that his output created skepticism because 36-year old catchers weren't supposed to produce like that.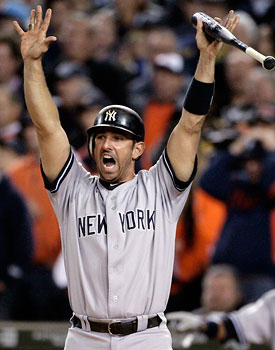 "Now, when you're 36 and have a good year," he said, "it's guilt by association."
Posada insisted that he never used enhancers.
"Why would I do that?" Posada asked. "You could lose everything. It's not worth it. It affects your family. It affects everything."
As a scout with the Atlanta Braves, Posada Sr. couldn't convince his bosses to draft his son out of Calhoun Community College in Alabama. The Yankees did, snatching the infielder in the 24th round of the 1990 draft and converting him to catcher. It was a smart decision. Really, it was an historic decision.
What that decision did was give the Yankees a vital player who would became part of the Core Four with Jeter, Mariano Rivera and Andy Pettitte. The kid who learned a lesson while painting a fence one morning in Puerto Rico worked to paint a memorable baseball picture in New York. He was tough, stubborn and passionate. He was worth watching.
Follow Jack Curry on Twitter: @JackCurryYES