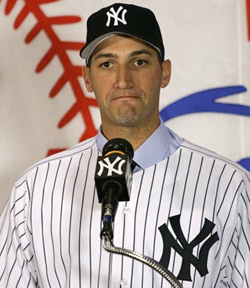 TAMPA – Andy Pettitte has ended his retirement to sign a 1-year, minor league contract with the Yankees that will pay him $2.5 million. Less than three weeks after Pettitte visited spring training as a guest instructor here, the 39-year old will soon rejoin the team as an experienced left-handed starter.
The Yankees needed starters last season and had hoped Pettitte would pitch for them, but he retired after going 11-3 with a 3.28 earned run average in 2010 and stayed retired. But the Yankees have always communicated to Pettitte that they would be interested in re-signing him if he ever wanted to rekindle his career. That is exactly what Pettitte wants to do.
When Pettitte visited here in late February, I asked him if being around some of his former teammates gave him an itch to try a comeback. Pettitte, who looked as lean as he did when he played, acknowledged that he did have some of those feelings.
"I'm sure I could," Pettitte said, about returning. "You start training, working out and get yourself into shape. I would imagine I could."
But then Pettitte dismissed the possibility of coming back.
"I retired after one of my better years," said Pettitte, who is 240-138 in his career. "I felt like I was at the point where I just kind of knew what I was doing mechanically out there on the mound and stuff like that. But I retired to go home and be with my family, and that's why I retired."
Now Pettitte is coming out of retirement to be with the Yankees, his second family. By signing a minor league deal, Pettitte can take his time in getting prepared to pitch in the Major Leagues again. The Yankees view Pettitte as an excellent addition to a deep rotation, a familiar face and, more importantly, a familiar arm to have for the 2012 season.
More Andy Pettitte: Top 9 Moments | Trivia | Video | Stats