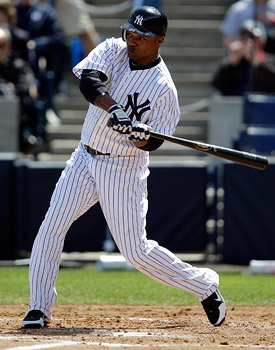 TAMPA – There are hundreds of stories in the Yankees' clubhouse here. There are superstars and players who are trying to become superstars. There are solid players, useful players and marginal players. There are players who are trying to prolong careers.
Dewayne Wise is one of those chasers, a player who is trying to snatch some more games and more paychecks.
Two lockers away from Derek Jeter, there is a locker for Wise, a 34-year old outfielder with a lifetime average of .219 and a scar alongside his nose. He made one of the most memorable catches in history and he has twice appeared in the postseason, but he acknowledged that his career "is winding down." Wise wants to end it on a championship team, which is why he signed a Minor League deal with the Yankees.
The roster situation on the Yankees isn't encouraging for Wise, who will almost definitely open the season at Class AAA. Curtis Granderson, Brett Gardner and Nick Swisher are the starting outfielders, and Raul Ibanez and Andruw Jones are the reserves. Unless someone gets injured, Wise, who has played 445 Major League games across the last 12 seasons, will be a Minor Leaguer in April.
"If I don't start out with the team, I'll go down to the Minors and fight my way back here," Wise said. "That's what I've always done."
Before Wise signed, he knew it would be difficult to muscle his way into a roster spot. But Wise, who was 7-for-16 (.438 average) before Friday's game against the Nationals, still chose the Yankees over other teams. Why?
"Because," Wise said, "I've heard for the two years that the Yankees wanted me."
Wise was right. The Yankees have had an interest in adding Wise for outfield depth.
"We've been trying to sign him for the last few years," said general manager Brian Cashman.
Cashman explained how arduous it can be to find a reserve outfielder who plays above average defense in center. Wise is that type of player. If Granderson or Gardner ever missed an extended period with an injury, Cashman said he could rely on Wise to provide solid defense in center or left. While Wise isn't an offensive force, he has a .264 average and three of his 22 career homers are against the Yankees.
But it's Wise's defense and versatility that impressed Cashman.
"He's insurance," Cashman said. "If something happens, he gives us insurance."
Wise plays very shallow in center, a product of being a wide receiver in high school. Because of Wise's roots as an All-State receiver in South Carolina, he has always been comfortable with retreating to retrieve baseballs. In some exhibition games, Wise has looked as if he was close enough to take a few steps forward and tap Jeter on the back. He knows he is extremely shallow, but smiled and said, "I have no problems going back on balls."
The most indelible moment in Wise's career came when he rushed back on a fly ball and made a phenomenal catch to help preserve Mark Buehrle's perfect game on July 23, 2009. Wise was inserted for defense in the ninth and he was immediately needed.
With Tampa Bay's Gabe Kapler batting, Wise was, as usual, playing shallow. Kapler hammered a ball to left center field, a shot that looked like it would spoil Buehrle's bid for perfection. Wise took his eye off the ball, sprinted toward the fence, recovered to find the ball again and leaped over the fence to snare the ball. The ball popped out of his glove as he fell, but Wise snatched it with his bare hand before tumbling on the warning track. It was a remarkable catch which was made even more remarkable because of the situation.
"Not a day goes by where someone doesn't ask me about that play," Wise said.
Now Wise is just trying to get on the field to make a play, any play, for the Yankees. Wade knows he will likely have to push his way through the Minor Leagues to make that happen later this season.
Playing baseball is what Wise does and what he wants to keep doing. When Wise was in the third grade, he wrote an essay about how he would become a Major Leaguer. As part of the assignment, he drew a stick figure baseball player. That stick figure still hangs from his mother's Christmas tree every year.
"Got my thumbprint and everything on it," Wise said.
The third-grader who drew the stick figure did become a big leaguer. Now Wise's hope is that he gets to add some pinstripes to his resume. Yes, there are hundreds of stories in the Yankees' clubhouse. Wise is one of them, a very cool one.
Follow Jack Curry on Twitter: @JackCurryYES