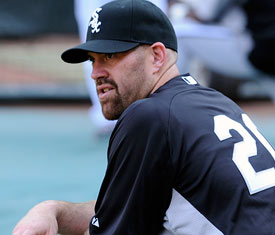 Kevin Youkilis was standing on a golf course in northern California, but once he picked up a black bat, he might as well have drifted into any batter's box in any stadium. Although there was no pitcher and no screaming fans, Youkilis morphed into baseball mode on this January afternoon.
We have all seen Youkilis' unusual batting stance. He stood almost upright and rocked his body slightly. His feet were close together. He held his hands and his bat near his shoulders. He had a leg kick as he swung. And, of course, Youkilis' top hand moved along the handle of the bat and only caressed it. He didn't fully grip it until the pitcher released the baseball.
"That was the old me," Youkilis said.
In YES' Yankees Access show with Youkilis, the third baseman explained why he changed his stance and how he ever gravitated toward having such a distinctive stance. The Batting Stance Guy and other devotees of Youkilis' stance can relax. He made alterations to his stance, but it's not an overhaul. There are subtle differences that Youkilis details in our show, which aired after the Nets-Lakers game Tuesday night.
After Youkilis had a two-day session with Kevin Long, the Yankees' batting coach, he emerged with a stance that mirrors his stance from 2008 and that he thinks should help him stay more balanced. His feet are wider apart and he is in more of a crouch. He has lowered his hands, which should enable him to get his bat into the hitting zone quicker. He has eliminated the leg kick and will now lift his left foot and lower it quickly. Youkilis' top hand is still not fully gripping the bat as he prepares to swing, a quirk that that he said gives him a rhythm at the plate.
While spending a day with Youkilis, it was interesting to hear him discuss his hitting approach, how he has thrived as an underdog (in high school, college and even now), how challenging it was for him to sign with the Yankees, how he asked the Patriots' Tom Brady, his brother-in-law, for insight on the Boston-to-New York transition and how important it is to him to be a Jewish baseball player in New York.
When Joe Bick, Youkilis' agent, told Youkilis that the Yankees were interested in signing him, Youkilis was shocked. Youkilis never saw that curveball coming. But, after the news of Alex Rodriguez's need for hip surgery became public, Youkilis understood why the Yankees were pursuing him. The player who was endlessly booed by Yankee fans when he played with the Red Sox signed a one-year, $12 million contract with the Yankees.
Behind-the-scenes photos | Youkilis Trivia
Youkilis, who said his first preference was to play close to home on the West Coast, plans to live in Manhattan and relish the New York experience. If Youkilis' stint with the Yankees lasts one year, which is what he expects, he's going to soak up as much of New York as he can.
Having interviewed Youkilis when he was with the Red Sox, I thought he was edgy and honest. The Youkilis I encountered in the Bay Area was just as edgy, just as honest. Since Rodriguez's timetable is uncertain, Youkilis is bound to be a vital player in 2013. It's a new stance and a new team for Youkilis.
Follow Jack Curry on Twitter: @JackCurryYES