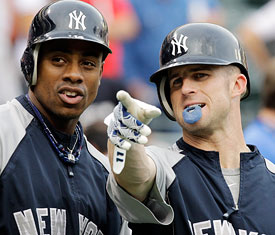 TAMPA -- Curtis Granderson began working out in left field for the Yankees on Thursday, which is a precursor to Granderson moving from center field to left. Brett Gardner will move from left to center.
There has been speculation about the Yankees starting Gardner, who is the better defensive player, in center this offseason. While manager Joe Girardi has addressed questions about the possible switch, it didn't come to fruition until he spoke to both players about the plan.
According to defensive metrics, Gardner has been one of the best defensive left fielders in the Major Leagues while Granderson has been one of the worst center fielders. Gardner considers center field his natural position. The Yankees aren't concerned about Gardner transitioning to center, but they do want Granderson to get acclimated to playing left.
General Manager Brian Cashman said Granderson and Gardner will both play center and left during the spring, and the Yankees will decide which alignment works best for them. If the Yankees were to make the move with Granderson going to left, Cashman said, "We have to decide if it weakens us or makes us better."
Follow Jack Curry on Twitter: @JackCurryYES