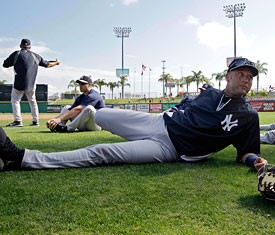 TAMPA - Derek Jeter has repeatedly said that playing for the Yankees on Opening Day was an achievable goal following surgery on his left ankle. But, after Jeter felt some stiffness in the ankle and was removed from Tuesday's starting lineup, general manager Brian Cashman said on Wednesday that Jeter could open the season on the disabled list.

Cashman said Jeter received a cortisone shot in his ankle on Wednesday and won't play for at least a few days. With 12 days left before the season opener against the Red Sox on April 1, Cashman acknowledged that Jeter might run out of time to be fully prepared to play.

"It's possible he might not be ready," Cashman said.

The Yankees still need to have Jeter play nine innings at shortstop and also play back-to-back games at the position without difficulties. Jeter played in consecutive games on Saturday and Sunday, and then the Yankees were off on Monday. But, when Jeter was scheduled to start on Tuesday, he felt the stiffness. Tests revealed mild inflammation in Jeter's ankle.

"It's not serious," Cashman said. "It's a time issue."

If the Yankees decide to have Jeter begin the season on the disabled list, he would miss at least the first six days of the season. Clubs are allowed to back date a player's stint on the DL until March 22, which is nine days before the season begins. But, in order to back date Jeter's potential DL stint to that date, he can't appear in a Spring Training game after Thursday. Cashman said Jeter could play in Minor League games to get prepared for the season, which would protect the Yankees' ability to back date the DL stint. Eduardo Nunez would replace Jeter at shortstop.

While Cashman was candid about Jeter's race against the calendar to play in the opener, he added that the shortstop could show up at Steinbrenner Field on Thursday "doing the jig." Cashman praised Jeter's ability to play through pain and expressed confidence that Jeter won't be hampered by ankle trouble all season.

"If anybody can do it," Cashman said, "Derek Jeter can."
Follow Jack Curry on Twitter: @JackCurryYES