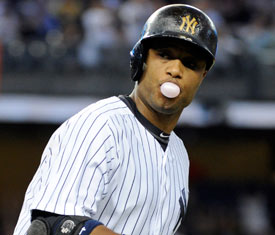 Two years ago, Robinson Cano stood on the rooftop of a hotel in Taiwan and described how meaningful it was for him to be a superstar. He wanted to be celebrated for his abilities, he wanted to be recognized for his talents and he wanted to be lionized for being the next great Yankee. He seemed to have a script in mind for making this unfold.
While Cano was in Taiwan for a Major League Baseball exhibition tour, he was adored. And he loved it. Cano embraced every aspect of the attention, even happily marching through the streets with over a hundred people trailing him like a Pied Piper. He was a Yankee and marveled about how fans that lived 8,000 miles from Yankee Stadium were so interested in him.
As Cano's free agency has evolved, I've thought about what he said at the hotel and the scenes I witnessed in Taiwan. Cano admitted that the love he received in Taiwan was, in part, because he played in New York and because the Yankees' brand traveled around the world. He stressed that he loved being linked with one of the most famous teams in professional sports.
"When you play in New York," Cano said, "you have fans all over."
Now Cano's connection with the Yankees has ended. According to ESPN, Cano has agreed to a 10-year, $240 million contract with the Seattle Mariners. The Mariners haven't officially announced the deal, but that should happen after Cano's physical next week. One of Cano's former teammates told me he was "stunned" by Cano's decision. A part of me is surprised that Cano left the Yankees, where he was building a potential Hall of Fame career, for Seattle. The Mariners have averaged 68 wins in the last four seasons. But, of course, the most important number to note is that Seattle's offer was $70 million more than Cano's next best offer.
I'm not being naïve about Cano's situation. Players wait six years for free agency and they are free to sign with any team they want and for any amount. It's the player's decision, not anyone else's. Last month, general manager Brian Cashman said Cano "loves the money" as he talked about whether the Yankees would sign Cano. Cashman said the Yankees would make a substantial offer, which they did at seven years for about $170 million, but added that another team might outbid them. That's exactly what happened.
Cano was the best player on the Yankees, a durable second baseman who provided power and who offered Gold Glove caliber defense. From his sweet swing to his stylish plays, Cano will be missed in many ways. But the Yankees were adamant about not giving Cano a 10-year deal or even an eight-year deal. The Yankees were very comfortable giving Cano a seven-year contract with an average annual value of almost $25 million. After the Yankees signed Alex Rodriguez to a 10-year, $275 million that they ended up regretting, they refused to extend that lengthy an offer to Cano.
As difficult as it was for the Yankees to lose a talent like Cano, they have an offseason plan for improving their club and they are executing that plan. They have invested over a quarter billion dollars to sign Brian McCann, Jacoby Ellsbury, Kelly Johnson and Brendan Ryan and to re-sign Derek Jeter. Cano could have remained in New York, but he would have had to accept the Yankees' terms. He didn't. That's his prerogative. The Mariners offered the most money, by far. So the player that loved being a Yankee must learn to love being a Mariner.