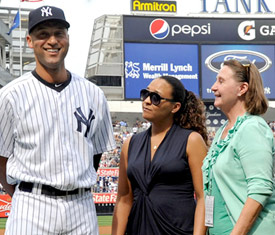 When I collaborated with Derek Jeter on a book in 2000, he let me into his private world a little more than he ever does with reporters. In order to accurately tell Jeter's story in "The Life You Imagine," I told him that he needed to treat me as a co-author and not like the sportswriter from The New York Times, which I was at the time.
"That sounds good to me," Jeter said simply, after I spent five minutes describing why that distinction was important.
For several months, I shadowed Jeter and interviewed him anywhere and everywhere. We did an interview over lunch at an Italian restaurant. At least we tried to do it. Once the fans spotted Jeter, I had no chance to get my questions answered. The autograph seekers won. We did interviews in Jeter's home in Tampa. Those were much more productive, but I should have asked him to lower the volume on ESPN. We did an interview on a private plane, which ended up being the most useful session we had. It was just me and Jeter for three straight hours in the four-seat plane. He even reached into the mini-fridge to serve both of us lunch.
What I learned in the book process reinforced what I had already known about Jeter. He is devoted to his parents, Charles and Dorothy, and his sister, Sharlee. That's not a charade. He had an obsession about becoming a Yankee, a dream that he had chased from the time he was eight years old. That's no charade, either. I read the elementary school yearbook in which Jeter predicted he would be a Yankee. He didn't complicate matters. There was nothing in Jeter's life, from personal to business relationships, that he didn't want there. If there was clutter, he would eliminate it.
After interviewing Jeter, his parents, his sister, his grandmother and his closest friends, I concluded that the Jeter who took over as the Yankees' shortstop in 1996 had essentially been that responsible since he was the shortstop at Kalamazoo Central High School in Michigan. Obviously, the 22-year old Jeter who helped the Yankees win the 1996 World Series title was more mature than the 15-year old Jeter that wanted to beat Portage Central. But I truly believe that Jeter was so motivated to achieve his goal of playing in the Major Leagues that he started acting like a big leaguer before he had a driver's license.
As revered as Jeter is these days, he and his family experienced bigotry (Dorothy is white and Charles is African-American) and that caused Jeter to be even more guarded. When Jeter was a kid, he said there "was something different about the way some people treated us." Some kids called Jeter a Zebra or Oreo Cookie or Black and White. When those unfortunate incidents happen, any person would be more selective about who they trust, how they act and what they say.
While Jeter's parents helped prepare him for a world that wasn't always going to be fair because of the color of his skin, I think that preparation helped him navigate the turbulence that can come with playing baseball in New York. Has any superstar in New York had as spotless an off-the-field reputation as Jeter? No one. Even as Jeter has dated super models, beauty queens and pop stars, his image has remained pristine.
When I asked Jeter about how he has led his life on and off the field, he explained what has guided his actions. Jeter said that he never wanted to do anything that would "embarrass" his parents. Imagine that? It's a simple, but profound statement. If we all made decisions based on not wanting to embarrass our parents, we'd make safer and smarter choices.
Now Jeter is retiring after the 2014 season, ending a career that has been exhilarating for him, his family and the generation of fans that don't know the Yankees without him. On the same day that Jeter announced his retirement, Jeff Idelson, the President of the Hall of Fame, noted that the induction ceremony for the 2020 class is on July 26. As cool and classy as ever, Jeter will undoubtedly be enshrined that day. I'm sure he'd say, "That sounds good to me."
Follow us on Twitter @JackCurryYES and @YESNetwork for more.