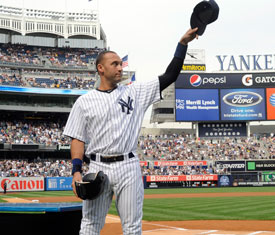 When Derek Jeter was a rookie shortstop with the Yankees in 1996, the veteran players scrutinized him. They were waiting for Jeter to do something that was immature, something that would require them to scold Jeter. It was all part of the clubhouse culture and was a way for the older players to teach some lessons. Eventually, every young player needed to be reprimanded, even playfully, for something.
So the veterans waited. They waited for Jeter to wear a garish outfit on the team plane, speak at the wrong time during a team meeting or miss a sign during a game. They studied the new kid on the block. He was 21 years old when the season started. Soon, they thought, he will do something goofy.
"We were waiting for him to make a mistake, like a cop with a radar gun," said David Cone. "He never did. Derek handled himself as well as anyone could."
That snapshot of Jeter's behavior during his first full season was the same picture that could be taken during every season of his career, a tremendous career that will end after 2014. Jeter announced on Wednesday that he would play this season with the Yankees and then will retire. So the man whose career was highlighted by making the right decisions, on and off the field, is making the right decision again.
While I think Jeter is making the correct decision by retiring, I was still surprised by it. When I interviewed Jeter last spring, before his ankle injury had recurred, I asked him whether he could duplicate his superb 2012 season of 216 hits and how high he could climb up the all-time hits list.
As always, Jeter was amazingly confident. He didn't want to just repeat 2012. He talked about being even better in 2013. I mentioned that Jeter, who now has 3,316 hits, was two solid seasons away from vaulting into fourth-place on the hits list, behind Pete Rose, Ty Cobb and Hank Aaron. Jeter didn't sprint away from that possibility, didn't sound like a man who was less than a year from retiring.
But Jeter's mindset changed because of a 2013 season that he called a nightmare, a campaign that was limited to 17 games. In Jeter's statement, he said, "Some of the things that always came easily to me and were always fun had started to become a struggle. The one thing I always said to myself was that when baseball started to feel like a job, it would be time to move forward."
Five months ago, Jeter chided reporters that asked about the future and wondered why there were so many questions about "the end." Now Jeter has answered the question about the end before it could even be asked this spring. This is it. This is the end for one of the greatest Yankees ever, a player with a .312 lifetime average, five World Series rings, five Gold Gloves, a Rookie of the Year Award and three top-three M.V.P. finishes.
Scan the crowd at Yankees game. You see all those kids wearing No. 2 jerseys, who root for Jeter and dream that they could be just like him? Jeter was one was of those dreaming kids. When Jeter was eight, he told his parents he would play for the Yankees. But Jeter didn't just have a dream. We all have dreams. He worked to make it a reality. From taking thousands of swings in his garage during frigid Michigan winters, to bypassing summer parties so he could play in tournaments, to abiding by the strict contracts that he signed with his parents -- Jeter was relentless in pursuing his dream.
"I was always serious about what I was doing," Jeter said. "I knew what I wanted to do."
In four months, Jeter will turn 40. I remember when he was 18 and the Yankees played host to their first-round draft choice at Yankee Stadium. He weighed 156 pounds. A year later, Jeter made 56 errors in the minor leagues, cried a lot and thought about quitting. But Charles and Dorothy, his parents, reminded him that he had a goal, a very difficult goal, and that he could attain it. Of course, he did.
A few days before Christmas in 1997, Jeter visited children in a hospital in Kalamazoo, Mich. Before the visit, Jeter conceded that he hated being in hospitals and was uncomfortable. During the visit, Jeter was at ease and was a magnet to the kids. He crouched down to play in a miniature kitchen with a little girl and teased an 11-year-old boy about being a Dallas Cowboys fan.
As I watched Jeter interact with those kids, I realized how smooth he was. He was as comfortable with them as he would be in lashing a fastball to right field with his familiar inside-out swing. Like Cone said, Jeter handled himself as well as someone could. At the time, Jeter had only been the Yankee shortstop for two years, but he said, "I have the best job in the world."
For one more year, he still does. Enjoy the final moments of a memorable career, a spotless career.
Follow us on Twitter @JackCurryYES and @YESNetwork for more.