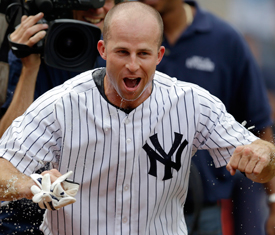 When Brett Gardner's name floated around as a possible trade chip for the Yankees in the off-season, general manager Brian Cashman wasn't interested in trading the outfielder. He was much more interested in signing Gardner to a contract extension. On Sunday, the Yankees did just that as Gardner agreed to a four-year, $52 million deal that will begin in the 2015 season.
By signing Gardner one year before he could became a free agent, the Yankees made a savvy baseball decision. While the Yankees don't typically negotiate extensions with players that are nearing free agency, they recognized the importance of having a reliable player like Gardner to pair with Jacoby Ellsbury in the outfield for the next several years.
"I love everything about the way Gardy plays the game," Cashman said. "He's a guy who will do whatever he can to help the team win. You want to keep guys like that around."
Every time I quizzed Yankees executives about the possibility of trading Gardner for a pitcher, they stressed how much they valued Gardner's speed, defense, plate discipline, his on-base percentage and his team-first attitude. If the Yankees were going to trade Gardner, they would have needed to be overwhelmed by any potential offer. That never happened.
What did happen is that Cashman began conversations with Joe Bick, Gardner's agent, about a new contract at the Winter Meetings in December. Using Michael Bourn's 4-year, $48 million deal with the Cleveland Indians from last year as a guideline, the two sides managed to move at a decent pace to reach an agreement.
Gardner, who already had a $5.6 million salary in place for this year, will make $12.5 million in each season from 2015 to 2018. The deal includes a fifth-year club option for $12.5 million, with a $2 million buyout. If the Yankees exercise the option, Gardner will make $62.5 million and will be with the team through the 2019 season. Ellsbury's seven-year, $153 million deal runs through 2020, with an option in 2021. Gardner, who didn't get a no-trade clause, sounded relieved to know that he was staying with the Yankees.
"It takes a lot of pressure off me and going out and having to perform in a walk year," Gardner said. "Free agency is something that kind of intrigued me, but it also kind of scared me. I've never been anywhere else. I got drafted here almost nine years ago. I love it here. This is where I wanted to be."
A former walk-on at the College of Charleston, Gardner was drafted by the Yankees in the third round in 2005. Cashman said some baseball evaluators told him that Gardner would never play center field for the Yankees, but Cashman thought differently. So did Gardner. Even after hitting .260 at Class AAA in 2007, Gardner told me in 2008 that he expected to soon be the center fielder for the Yankees. He was right.
Now Gardner will be with the Yankees a lot longer, although he will be in left field since Ellsbury is the center fielder. While Ellsbury and Gardner are similar players, the Yankees relish the idea of having both of them in their lineup for many more years. Gardner offers the Yankees a dimension that few players can give because he has the ability to change games with his legs, his bat and his glove.
"He really has developed into a real solid, every day player," Cashman said. "He's tough and he's a gamer. I think he's part of the solution here."
Follow us on Twitter @JackCurryYES and @YESNetwork for more.