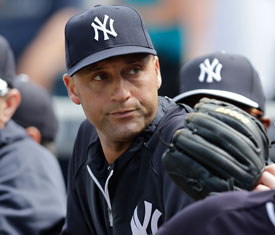 Back in 2007, Derek Jeter told Gene Michael, the Yankees' super scout and a man who helped him with his footwork as a minor league shortstop, that he planned to become a baseball owner after he retired. Jeter asked Michael, who was 69 years old at the time, if he wanted to be Jeter's general manager.
"How much longer are you going to keep playing?," Michael asked.
"Ten years," Jeter said.
Michael was confused. If Jeter played those 10 more predicted seasons, he would have be active until the end of 2016. If Jeter put together an ownership group and and then was able to find a team to purchase in, say, a quick three years, it would be 2019. By then, Michael would be 81.
"I asked him if he wanted an 81-year old G.M.," Michael explained. "Maybe I'd be better off being an 81-year old manager."
While Michael chuckled at the exchange, he was flattered that Jeter tried to recruit him more than a decade ahead of time. To Michael, that conversation showed how serious Jeter is about eventually owning a team. Long before Jeter knew that 2014 would be his final season as a Yankee, he was privately plotting his post-playing career. In the latest episode of #JCTV, Jeter elaborated on how he would like to shift from shortstop to the owner's box.
"That's the next ultimate goal, to be an owner," said Jeter. "I would love to call the shots. I think I've learned a lot in my career, not only what goes on on the field, but I learned a lot from our late owner in how to run an organization. I know I still have a lot to learn, but I'd like an opportunity to do that."
As challenging as it to become one of the best shortstops in baseball history, as Jeter has done, there will be new and different challenges in trying to become an owner. It's incredibly difficult for any athlete to make that transition smoothly. Jeter has seen what Michael Jordan, his friend, has experienced as Jordan has shifted from being perhaps the greatest basketball player ever to an owner who is still trying to be identified as competent.
Gene Michael is confident that Jeter will succeed in his quest to become an owner and said Jeter could "be another Steinbrenner" because he was demanding of himself and would definitely be demanding of his team. When I told Jeter about Michael's comparison, Jeter said he considered it "a compliment" to be compared to the man that bought the Yankees in 1973.
"In my opinion, I'm a little biased, obviously, but I feel as though he's the best owner in sports, or was the best owner in sports," Jeter said. "I think a lot of owners have learned a great deal from him, myself included."
Jeter had an interesting slip of the tongue in his last comment. He said a lot of owners had learned a lot from Steinbrenner, "myself included." Although Jeter surely didn't mean to call himself an owner now, he definitely plans on calling himself an owner after he finishes playing.
Follow us on Twitter @JackCurryYES and @YESNetwork for more.