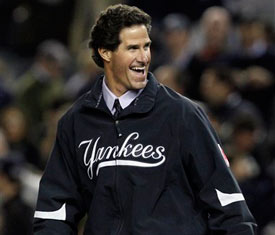 There are so many images that remind me of Paul O'Neill's career with the Yankees, a career in which he helped them win four championships in his nine seasons. Images of pivotal hits, bulldozing slides, lunging catches and percolating emotions. Watching O'Neill play was like watching a simmering tea kettle. Eventually, he was going to boil over.
But the image of O'Neill that lingers with me more than any other has nothing to do with his hits, slides or explosions. It has everything to do with his disdain for losing. When I think of O'Neill, I remember him sitting in front of his locker after a loss, his elbows resting on his knees, his hair flaring in 13 directions and a scowl decorating his face.
In those moments, O'Neill looked as unapproachable as a 300-pound bouncer who just saw you cut the two-block long line and just felt you step on his foot, his injured foot. But here's what was interesting about O'Neill. He was approachable in those darkest moments. He wanted to discuss what had gone wrong in the game and wanted to revisit what had thrust him into such a sour mood.
"I guess I just had to share it with someone," O'Neill said. "Talking about it made it feel like it would go away quicker."
The raw anger that O'Neill exhibited after making an out, emotions that helped endear him to fans, came because O'Neill was a perfectionist. We all know perfectionists, people who push and prod in trying to do everything exactly as they think it should be done. Perfectly. And they all fall short of that goal.
In baseball, a hitter's pursuit of perfection is a ridiculous goal. If a hitter is successful in three out of ten at bats, he is an elite player. But O'Neill, who batted .303 with the Yankees, really thought he could and should get a hit every time up. That's where the flying helmets, sailing bats and dented coolers came from. O'Neill hated failing, hated being anything less than perfect.
"I truly believe you're just wired that way," said O'Neill, in an interview that will air during "Hail To The Warrior" on the YES Network at noon on Saturday. "Some people are wired to be able to turn the page quickly. There were times out on that field where I knew that, if I didn't turn things around, I wasn't going to sleep that night. That's motivation in itself. You want to do well. It's not always someone in the front row that's booing you. It's to do it for yourself. You just feel this need to be better, to be better and to work harder."
Saturday promises to be a humbling, memorable day for O'Neill, who will be honored with a plaque in Monument Park at Yankee Stadium. He will thank his parents, Charles and Virginia, who let the youngest of their six children behave like he was bigger and tougher than he really was and that's how he became bigger and tougher and fashioned a 17-year career in the major leagues.
Hours before the Yankees won the 1999 World Series, Paul's father passed away from heart disease. O'Neill played in the clinching game, won another ring and then wept in right field after the final out. On O'Neill's ring finger, he wears two wedding bands: his and his father's.
"My mother gave this to me two days ago," O'Neill told me during the 2000 World Series, fiddling with the thinner gold band under his thick gold band. O'Neill called his father, who was a former minor league player, his "hero" and added, "Anything you accomplish is because of what your parents did for you."
Are you still friends with any of your classmates from kindergarten? O'Neill is. He is more than friends with Nevalee, the neighbor who he car-pooled to school with when they were five years old in Columbus, Ohio. They became husband and wife. O'Neill will thank Nevalee and their children, Andy, Aaron and Allie for the endless support. And he will thank his four older brothers and one older sister, the siblings who helped mold his competitive spirit because he was constantly chasing them.
"He's been playing like his life depended on it since he was a little kid," wrote Molly, his sister and the person who has written the most eloquent pieces about O'Neill.
When George Steinbrenner first called O'Neill "The Warrior," O'Neill was taken aback and didn't know how to react. At first, O'Neill thought it was corny. But then O'Neill reflected on Steinbrenner's passion for winning and the expectations that the owner had for his players and he embraced the nickname. Still does. So O'Neill will surely thank Steinbrenner and the rest of the members of the Yankees family, from ownership to the front office to Manager Joe Torre and teammates like Joe Girardi, Tino Martinez, Bernie Williams and Derek Jeter.
"You start to think about what you want to say on that day and you get nervous," O'Neill said. "It's an unbelievable honor."
To be successful as a player, O'Neill said he had "a drive every single day" of his career because he wasn't the type of player who couldn't have one amazing month to carry him through a season. He felt as if he needed to have one productive day followed by another and another. He judged himself from at bat to at bat.
As insane as it is to think a batter could be successful every time at the plate, O'Neill actually explained to me why that approach made sense to him. O'Neill hated the theory that batters needed to "tip your cap to the pitcher" and credit them for getting you out. Because, at some point in O'Neill's career, he said he had drilled the pitch that just retired him. Whether it was a low and away fastball or a curveball up in the zone, O'Neill said there "wasn't a strike out there," that he had failed to pummel.
"So don't tell me to tip my hat because I've hit that pitch before," O'Neill said. "I made an out. I made the out. I never thought, 'The pitcher got me out.' I made the out."
With that answer, the ornery O'Neill was back. Eventhough he was wearing a suit and tie and we were sitting in a quiet room, O'Neill, who is now a broadcaster on YES, reverted back to being a hitter who just lined out with two runners on base. Don't dare say the pitcher got me out, O'Neill stressed. That was typical O'Neill. Still fighting for hits, 13 years after retiring.
In 1999, I asked O'Neill about the possibility of someday being honored in Monument Park and he dismissed the question. O'Neill said he didn't even like to look in that direction because he didn't belong with those legendary players. Now that O'Neill will be joining those famous Yankees, he said he will bring his family and friends there and say, "Hey, look at that. They made a mistake. They put one of me up there."
It is no mistake. O'Neill deserves the plaque, a fitting tribute to how much he meant to those dynastic Yankees. But, when someone asks me what I remember most about O'Neill, I'm going to talk about that dejected guy sitting near his locker with his head bowed and his uniform crumpled at his feet, the guy who chased perfection and despised losing. That's the Paul O'Neill I will remember.