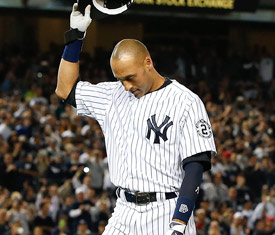 He almost cried on the drive from lower Manhattan to Yankee Stadium. He retreated to the clubhouse between innings to dab at his moist eyes. He stood at shortstop and breathed in and out and peered at his cleats, more evidence that tears were a millisecond from dripping on his pinstriped uniform.
This was Derek Jeter, the coolest of shortstops, on his last day at the Stadium. And, by Jeter's own admission, he was an emotional mess. As much as Jeter had tried to disguise his feelings and act like Thursday night was just another game, he had failed. Miserably. It wasn't another game. It was the last home game, the last time he would ever report to his office at the Stadium.
Jeter has always been the smile-and-have-some-fun superstar, the player who spoke to young fans in the on-deck circle during the World Series. But, in a regular season game that had no meaning beyond it being Jeter's farewell to the Bronx, Jeter was so unnerved that he uttered something we never thought we would hear.
"First inning, I was saying, 'Please don't hit it to me,'" Jeter explained. "The last inning, I almost lost it."
With all of those emotions churning and all of those memories simmering, Jeter was surely hoping that David Robertson would protect a 5-2 lead and allow Jeter to get closer to a box of Kleenex. But Robertson failed. Shockingly, he surrendered two homers and three runs and created a bottom of the ninth inning. The third batter in that inning would be Jeter. Millions of amateur script writers began to fashion the quintessential Jeter ending.
When Jeter got to the plate, there was a runner on second base with one out. It was a perfect situation for Jeter to be the hero, but was this really happening? Didn't this seem too surreal? As Jeter walked to the plate to face Evan Meek, I searched for this Jeter quote from about 15 years ago.
"I feel like I'm going to be successful. Always. Obviously, that can't happen. But it doesn't stop me from feeling that way. I don't care who I'm facing. I don't care what I did the last time. I feel like I'm going to be successful and I have no doubt at all. None whatsoever."
Seconds after I found the ancient quote that oozed with confidence, I watched Jeter line Meek's first pitch fastball to right field, of course, to drive in Richardson with the decisive run, of course, and then celebrate like a gentleman, of course. It was so fast, so dreamy, so incredible, a career built around success, respect and privacy ended with a walk-off hit and ended with a 40-year-old man ambling around the field, almost in a daze.
The always regal Jeter looked drained, drained of energy, as he hugged his teammates and then his family members, waved to the fans while taking a lap around the infield and soaked up his final moments at the Stadium. Jeter made one last trip to shortstop, paused in the grass just beyond the position, knelt down and said a prayer. He was saying good-bye to shortstop, a spot he will never play again.
"I want to take something from Yankee Stadium," Jeter said. "The view from shortstop here, tonight, is what I want to take from it."
We saw Derek Jeter, unplugged, in the post-game on Thursday night. Throughout his career, Jeter has hidden his emotions, never allowing any outsiders to know what was broiling inside of him. But, after Jeter's walk-off hit, he was insightful, candid and raw, describing how difficult it had been to deal with the finish line and how the season sometimes felt like a funeral. Jeter, the iciest of players, wasn't even sure how he had managed to play on Thursday.
But he played, he played hard, like he always did. And he succeeded. The player who always expected to get a hit, .255 average be damned, collected one more hit at the Stadium. And then Jeter came as close as he would ever come to bragging, even though he was telling the truth.
"I know there's a lot of people that have much more talent than I do throughout the course of my career, not just now," Jeter said. "And I can honestly say I don't think anyone played harder. I don't. Maybe just as hard, but I don't think anyone had more of an effort."
He's right. Jeter was always working hard for the Yankees, always the reliable rock at shortstop. Those days are gone and, after a siesta of a weekend in Boston, Jeter will be gone, too. He had one of the best regular season send-offs a player could ever experience. After the cheers dissipated and the questions ended, I hope Jeter found a peaceful place to be alone in the clubhouse. And I hope he cried.
Follow us on Twitter @JackCurryYES and @YESNetwork for more.