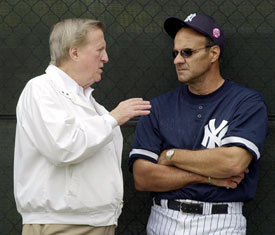 LAKE BUENA VISTA, FLA - It's not supposed to unfold like this, not in baseball. A man is not supposed to experience his greatest job triumphs after his 55th birthday. Baseball doesn't work that way. But that's what happened with Joe Torre, who was hired as Yankees manager by George Steinbrenner and watched his career skyrocket into an unfathomable place, into the Hall of Fame.
When Torre, Bobby Cox and Tony LaRussa were unanimously voted into the Hall by the 16-member Expansion Era committee on Monday, the managers were naturally emotional. Torre said the delirious news, which he knew had a strong possibility of happening, "hits you like a sledgehammer." Torre cut his acceptance speech short because he was worried about crying.
But, eventually, Torre sat at the end of a stage and talked about the incredible baseball journey he has experienced. Before Steinbrenner called Torre, it was a journey that seemed to have ended for Torre. He had an excellent career as a player, a career that he said wasn't worthy of the Hall, and then managed the Mets, the Braves and the Cardinals to an 894-1003 record. In November of 1995, Torre thought his expiration date as a manager had passed. That's when Steinbrenner called and offered the job
"George Steinbrenner changed my life," Torre said.
With Derek Jeter and Torre both assuming full-time roles in 1996, the Yankees won their first World Series in 18 years. Before Torre joined the Yankees, he had managed or played in 4,722 games without making it to the World Series. Once Torre made it to that hallowed place with the Yankees, he helped make it habitual to return there as the Yankees won titles in four of his first five seasons.
While voters were instructed to judge candidates on the totality of their careers, Torre stressed that he wouldn't have been voted into the Hall if he hadn't managed the Yankees. Although Torre is proud of what he accomplished as a player, he catapulted himself into contention for the Hall based on what he did in the dugout. Torre guided the Yankees to 12 straight post-season appearances and finished with a record of 1,173-767. He had a soothing style, always projecting to his players that he believed in them and that the Yankees were only an inning away from another comeback.
"On behalf of the Steinbrenner family and our entire organization, I'd like to congratulate Joe Torre on his induction into the Hall of Fame," said Hal Steinbrenner, the Yankees' managing general partner, in a statement. "Joe led our team during one of the most successful runs in our storied history, and he did it with a quiet dignity that was true to the Yankee way. Joe's place in history has been secure for quite some time and it is appropriate that he now gets to take his place among the greats in Cooperstown."
When Torre became the Yankees' manager, I wrote in The New York Times that he was a "respectable, but hardly overwhelming choice." That wasn't as damning as the "Clueless Joe" headline that ran in The New York Daily News, but there was a definite curiosity about why Steinbrenner hired a manager who had failed in three other places. In Torre's first year, he helped proved why Steinbrenner had made the right decision.
Besides Torre, LaRussa and Cox, no candidates, which included Marvin Miller and Steinbrenner, received the 12 votes that were necessary to be elected into the Hall. In fact, none received more than six votes. Torre lamented that Miller, the former head of the player's union, had been snubbed again. It's ludicrous that Miller isn't in the Hall. Eight of the 16 voters are former players. How did Miller not at least get eight votes?
And Torre also spoke about Steinbrenner, the man who had changed his life when Torre was 55. Torre said that his old boss deserves to be in the Hall, too.
Prominent members of the Yankees' organization agree with Torre. Randy Levine, the Yankees' president, congratulated Torre, LaRussa and Cox and said they were superb candidate who deserve to be in the Hall. But Levine added that Steinbrenner should be in there, too.
I think they made a mistake," Levine said. "There's no one that impacted the game more than George Steinbrenner. He deserves to be in the Hall."