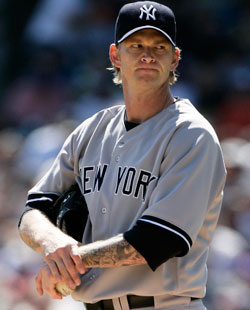 1. Joe Girardi had a message for his players in the clubhouse after Sunday's 12-5 win in Texas: "You've got to stop making it so hard on yourselves." Girardi was reacting minutes after the last out was recorded on a 3-4 road trip that featured plenty of blunders. Most obviously, the Yankees committed nine errors, all in the last four games. When asked, Girardi wouldn't elaborate on his message. But clearly, he intended to give the Yankees something to think about going into yesterday's off day. And before the homestand begins today.
2. Also on the road trip -- we're cleaning out the notebook here -- A.J. Burnett and Ivan Nova continued to forge a nice relationship. Or, as Burnett put it, "I was dragging him with me every day."
Burnett is referring to his early arrival at the ballpark when the Yankees are on the road. He convinced Nova to go with him -- "I don't do anything at the hotel, anyway," a smiling Nova told us -- as early as 1 p.m. for games that began six hours later. The two ran and did other conditioning work. They also lifted weights.
Burnett believed the extra work would help Nova extend his outings into the later innings. "Don't give them a reason to take you out of a game," were A.J.'s words to the rookie.
In his last three starts, Nova has pitched into the seventh inning twice and the eighth once, against the Tigers. Before that start, Burnett told Nova he'd talk to him afterward. After Nova left the game, Burnett hugged him in the dugout and told him, "All that hard work is paying off."
Burnett said early in his career with the Marlins, Ron Mahay and Matt Mantei served as mentors for him. Now, he seems to be doing the same for Nova.
"Yeah," Burnett said, "I guess that's what it is."
3. Not surprisingly, pitching coach Larry Rothschild loves to see his pitchers bond. As for Burnett's mentoring of Nova, Rothschild said, "I think it's great, especially for the younger guy to see that someone cares and to have that kind of relationship. And I think A.J. gets something out of it, too. Because he hears what he's telling Nova."
4. The Texas lineup looks dramatically different without Josh Hamilton. And it's a shadow of itself without Hamilton and Nelson Cruz. Hamilton plans to take batting practice Friday. The Rangers visit the Stadium next month.
5. Loved seeing the players Sunday with their pink bats, ribbons and even cleats. The interviews that are always easiest: When you ask guys to talk about Mom.
6. Little Karter Chamberlain, who's five years old, was in the Yankees' clubhouse over the weekend as he visited his dad, Joba. After Sunday's game, Karter asked CC if the game was a long one. CC explained that it was, lasting basically from 1 p.m. to almost 5 p.m. local time.
Karter then said, "Your team hit a lot of home runs, right?"
"Yes," a grateful CC said, "five."
Cute watching CC, a father of four, interact with Karter. When we asked Joba if we could blog about his son, he said yes, with one provision: "Spell his name right."
7. In-stadium voting for the All-Star Game begins today. The Yankees had eight All-Stars last season.
8. The Yankees' leadoff hitter seems to be doing just fine in that role, by the way. According to today's Yankees notes, Derek Jeter is batting .409 (18-for-44) with two home runs, three walks and a .447 on-base percentage to lead off innings this season.
9. Should be fun to see the Royals, one of the early surprises of the season, at the Stadium for three days. Melky Cabrera told the Kansas City Star he wasn't sure how Yankees fans will receive him. We're guessing it's with a cheer. See you soon! And thank you.
To reach Kim or comment on the blog, go to @YESKimJones on Twitter.