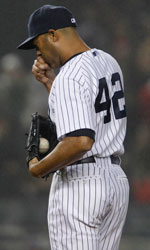 Mariano Rivera will be known for a long time as baseball's best closer, but people may not know all his special routines for shutting the door on opponents. Fortunately, he's willing to reveal a few secrets to his recipe!

Some hints:

He always throws 10 to 12 pitches in the bullpen.

He takes two to four steps out of the bullpen before jogging to the mound.

Sometimes he doesn't even need eight pitches on the mound to get ready.

He usually knows which batters he's facing, but not always.

Watch the whole video to uncover it all!