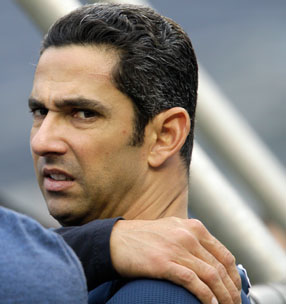 1. The dramatics of the past 24 hours began with Jorge Posada believing that he'd been wronged and ended with his admission -- apologies all around -- that he was wrong. Case closed. Or so we've been led to believe.
In the first inning of Sunday's game, media relations guru Jason Zillo read a statement to reporters: Posada, who'd already apologized to Joe Girardi, met with Brian Cashman and apologized to him, too. Cashman then briefed Hal and Hank Steinbrenner and Randy Levine. The apologies were accepted. No disciplinary action will be taken. "They consider the matter closed," Zillo said.
2. Derek Jeter, Posada's best friend, reacted publicly pregame Sunday for the first time. He had his buddy's back. "He's like a brother to me," Jeter said. "If I thought he did something wrong, I'd be the first one to tell him."
Jeter essentially said there is no shame in "needing a day" and Posada had "no reason to apologize" to teammates.
"He said he had to clear his mind," Jeter said, surrounded by dozens of reporters at his locker. "I think everyone in here can understand that."
At one point, Jeter was asked if he ever needed a day.
"Yeah, I need a day right now, talking to you guys," he said. Laughter all around.
Later, in typically concise Jeter fashion, he summed up his take on the whole melodrama: "It's over, it's done."
3. During his Saturday postgame with the media, Posada came across as angry, edgy, and frustrated. During Sunday's pregame, he struck a conciliatory tone -- one that suggested chagrin -- and seemed on the verge, at times, of becoming emotional. His eyes appeared to glisten when he described Saturday as "one of those days you hope you can take back."
It's as if he knows this weekend is forever part of his Yankees resume.
"I've learned from this," the 39-year-old said. He answered every question. Posada reiterated Sunday that "batting ninth had nothing to do with it," when he asked out of Saturday's lineup. Posada has been steadfast on that point.
Another of Posada's cathartic moments came when he mentioned Yankees fans, saying he wanted to "let the fans know I'd never back down from a game."
The bleacher creatures greeted Posada on Sunday night by incorporating him into their roll call. Nice touch. Posada acknowledged them from the dugout.
4. Girardi's press conference Sunday was one of his more interesting sessions. Particularly, when he talked about the challenge of managing great Yankees in the twilight of their careers. "There's no manual I can go to," Joe said.
"None of us ever wants to hear that we're getting old," Girardi also said, alluding to whispers he heard as a player and ones Posada is likely hearing now. "…You want to play forever. I told Jorge it's important that you enjoy your career."
5. Their careers overlapped, with Girardi admitting it was difficult for him as Posada supplanted him at catcher. "I told him I watched him take my job and I didn't like it," Girardi said, relaying part of his conversation with Posada. "I knew he was a better player than I was."
Girardi also told Posada that he understands a player's struggles.
"I know you're going to get through this," Girardi told Posada. "And this" -- the .165 batting average, in particular -- "doesn't define who he is."
You get the distinct feeling that while neither Girardi nor Posada would want to relive the events of Saturday, their Sunday conversation was good for both of them -- as manager and player, and as men.
6. A tidbit, courtesy of Chad Jennings of the Journal News and his digital recorder: Posada spoke to the media for 8½ minutes Sunday. Jeter spoke about Posada for 12. That's a long media gathering for Jeter. Just ask him.
7. We were in Trenton at the home of the Thunder this morning -- with senior associate producer Christa Robinson -- to interview Manny Banuelos, Melky Mesa and Austin Romine for upcoming features. It's fun to check in with Yankees prospects. We'll keep you posted on when those features will air. Only on YES.
8. Rafael Soriano's elbow issues haven't gone away, though Girardi said the current discomfort is "tightness" as opposed to the previous "stiffness." Whatever that means. It'll be interesting to see if Soriano is available to pitch the eighth inning against his former team, the Rays, over the next two days.
9. Phil Hughes is continuing his throwing program. Asked for an update, a slightly (and good-naturedly) exasperated Girardi said, "I don't know. I've had a busy day." We'll try to corral Hughes in the near future for a report. Thank you.
To reach Kim or comment on the blog, go to @YESKimJones on Twitter.