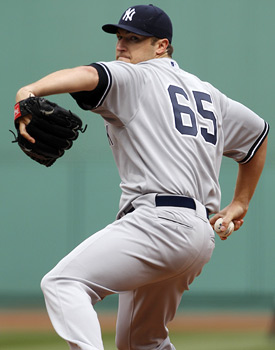 Phil Hughes has been on the disabled list with shoulder inflammation since April 15. Since then, he's received a cortisone shot, started a throwing program and watched the Boston Bruins eliminate his beloved Tampa Bay Lightning from the NHL playoffs.
Hughes' throwing program to date has included a lot of playing catch and two bullpens. He's scheduled for another bullpen Wednesday and could face hitters by the weekend. Joe Girardi said Monday that Hughes' return won't be until "realistically, sometime in July."
After our first interview with Hughes was ruined by an eight-year-old tape recorder that didn't record, we caught up again with Hughes, who answered nine questions for Nine.
1. Are you excited that I've moved into this new age? My first digital recorder and you're my first interview with it.
PH: Yeah. You seem so much more official now (laughs).
2. You were on a mound (Friday) for the first time (since going on the DL). How much progress does that represent to you?
PH: We'll, I feel like a pitcher, for one thing. That's always a good step. To (just) play catch all the time, I felt like someone who won a contest and got to go on the field. So it's a step in the right direction. If all goes well, I'll pitch in some sort of Minor League game in a couple weeks. That's when I'll feel like I'm really one step away. I'm excited about that.
3. How would you describe the way your arm feels "better" now?
PH: Before I got the cortisone shot, it took me a lot longer to get loose. Everything kind of feels looser, more free (now). That's a positive sign. If everything felt the same as before, it would almost seem like I'm just going down the same path and I'm going to continue to fight the same issues. But it has felt different, so that's a good thing.
4. With the Lightning eliminated from the NHL playoffs, what will you watch?
PH: Um, I'll watch the finals and hope that Boston loses (laughs).
KJ: As usual.
PH: Yeah. Exactly. (The Lightning) had a great year, though. Game 7 Eastern Conference Finals. What more could you ask for? And it's not like they laid down; they played a good game. Maybe I'll watch the NBA Finals. I don't know.
5. When did you become a big Lightning fan?
PH: Two years ago. We were in Tampa and started going to games. They weren't very good and didn't go to the playoffs the last couple years. But that makes it more gratifying when you follow a team that stinks for a while then goes on a great run.
6. You're friends with a bunch of those Lightning players. Could your athleticism have translated to hockey?
PH: (laughs) Maybe goalie. I'm big, just get in the way. I'm decent with the glove, maybe I could try to snag some pucks out of the air. No, those guys are a different breed. I don't think I could take a slapshot to the face and come out and play.
KJ: Can you skate?
PH: No. That might be one problem. I could be a goalie with shoes on.
7. In the midst of a 10-day, nine-game trip, do you like being on the West Coast?
PH: Yeah, it's great. I love the West Coast. It's funny because I'll tweet, "Glad to be back home" or "Love it out West" and Yankees fan will hate on me because, of course, New York is the best place in the world and how dare I say the West Coast resembles anything even decent. But I do like it out here. The time change is nice. You get a little extra sleep.
8. Will we see your parents, Phil and Dori, in Anaheim, even though we know you're not pitching?
PH: I think we will, yes. My mom doesn't like baseball and my dad is really into it (laughs), so he'll drag her along. I'll wave from the dugout.
9. It's always nice to be home, isn't it?
PH: I love going home, it's great. I get to see everybody. It's actually a little easier when you're not pitching in the Anaheim series, just from the tickets and pressure and all that stuff. You don't want to have a dud with all your family watching. Nonetheless, they love me, even if I'm on the DL.
To reach Kim or comment on the blog, go to @YESKimJones on Twitter.