1. Mark Teixeira said on the field Monday night that he was determined to score from second on Nick Swisher's single to center field. And he braced himself for a possible collision at the plate, if necessary. (It wasn't.)

So we followed up with third base coach Rob Thomson in the clubhouse, asking if sending Teixeira was an easy decision.

"You look at the way (Austin) Jackson caught the ball, "Thomson said. "He was back a little on his heels."

The ball played him?

"The ball played him," Thomson said. "That's when I knew I'd send Teix."

And Teixeira scored the winning run.

2. Robinson Cano told us after the game that he is hoping to be available tonight. His left hand, however, was sore. And he said gripping a bat was difficult.

"I hope," Cano said, when asked about the prospects of playing Tuesday against the Tigers. "But I don't want to make it worse."

There is a friendly disagreement between Cano and Ivan Nova on the throw that caused the bone bruise on the palm of Cano's left hand during Sunday's game.

They do agree on this: Nova's pickoff throw to second in the third inning was to blame.

"I thought I threw it straight," Nova said.

"It was a sinker," Cano said. "Not straight."

"I said I'm sorry," Nova said.

Both players were smiling as they recounted that conversation.

3. Before Monday's game, Curtis Granderson wasn't sure how he would be welcomed by the Detroit fans. He got his answer in the first inning. Some colleagues described the greeting as "polite applause," and we would mostly agree. There was also a good deal of indifference, which might be a sign of how Tigers fans feel about baseball in general at the moment.

4. The more we hear Yankees talk about Justin Verlander, the more we think he is on the very short list of pitchers for whom their clubhouse has universal respect. And that's whether they beat him or not.

5. Under his uniform, Russell Martin often wears a shirt that bears a picture of Derek Jeter in uniform. It's a large image, covering the entire front of the shirt, which is skin-tight and appears to be made of some sort of dri fit material.

He was wearing the shirt Monday night and we asked why. (We had to.)

"'Cause it's got a lot of hits in it," Martin said. "There are lots of hits in that shirt."

Martin said Nick Swisher was wearing an identical shirt during Spring Training.

"There was one more in the back," Martin said, "so I grabbed it."

6. Eric Chavez sat down for our "Innerview" which will air on "Batting Practice Today" (YES, 6 p.m.). Like Martin, Chavez is a perfect fit as a Yankee.

After the interview, which probably lasted five minutes, our Detroit-based cameraman, Scott, said, "That seems like a guy you'd want on your team."

That pretty much sums it up, doesn't it?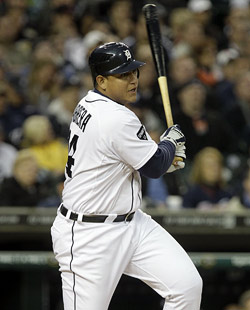 7. Miguel Cabrera, the Tigers' slugger, has 38 hits, 10 home runs and 24 RBIs in 27 career games against the Yankees. He has the highest batting average vs. the Yankees -- .388 -- of any active player with at least 75 at-bats.

In the eighth inning Monday – and with the bases empty -- Joba Chamberlain threw Cabrera four consecutive sliders and gave up a single, Cabrera's third of the night. After the game, Chamberlain said he was determined not to give Cabrera a pitch he could hit out of the park. And he seemed genuinely relieved that he didn't. Chamberlain struck out Brennan Boesch to end the inning.

Earlier, Bartolo Colon gave up a two-out single to Cabrera that scored Ramon Santiago from second. Especially with first base open, we would have walked Cabrera there. (There's a chance we'd always walk him.) In explaining the decision to pitch to Cabrera in that spot, Joe Girardi noted that Boesch has hurt the Yankees, too.

8. Before we interviewed Colon, he and Chamberlain were engaged in a conversation in Spanish that both players seemed to enjoy.

Among the few words we understood was "Santiago," as in the Tigers second baseman. Chamberlain retired him on a groundout; against Colon, Santiago went 3-for-3.

A few minutes later, Colon told reporters that no matter what he throws, Santiago gets a hit. Santiago is 11-for-20 in his career against the veteran right-hander.

9. In closing out the win, Mariano Rivera got Ryan Raburn to ground out to second. As Raburn's bat splintered into about six pieces, some shot into the air like fireworks.

On the team bus, we asked Rivera about the broken bat. He didn't flinch. Or initially respond.

Finally, he said, "I don't think about broken bats. That's for you to worry about."

Thank you.
To reach Kim or comment on the blog, go to @YESKimJones on Twitter.