With the offseason just around the corner, New York Yankees general manager Brian Cashman may be presented with the opportunity to pull off a few trades to improve his squad.
Prospects will more than likely be dealt in such trades, but a few prospects should be considered completely untouchable. Whether it's because of their minor league numbers or their sheer potential, certain Yankees prospects are just too valuable to give up.
As an older team, the Yankees will eventually need to rely on a few young players to act as cornerstones for the next generation of Bronx Bombers. A few of those players may be in the Yankees system right now, and Cashman would be foolish to trade them away.
Fans might be OK with trading even the most untouchable prospects for GiancarloStanton or Carlos Gonzalez, but seeing as both of those players are likely unavailable,Cashman shouldn't push to make a trade with his top minor leaguers.
Gary Sanchez, Catcher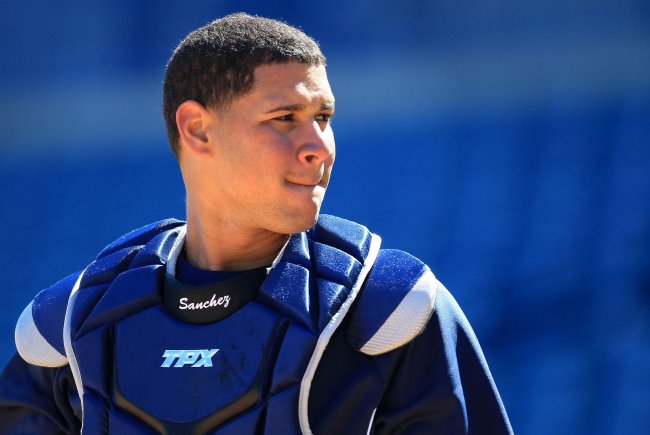 The Star-Ledger-USA TODAY Sports
Gary Sanchez appears to be the next great Yankees catcher. He has all the tools to be successful at the big league level. All he has to do now is continue to develop against higher levels of pitching until he's ready to make the jump to the majors.
He hit only .253 last season (his career average is .275), but he did manage 15 home runs and 71 RBI. He also walked a career-high 41 times.
Sanchez has big-time power from behind the plate and could potentially put himself right in the middle of the lineup when he gets the call.
Defensively, Sanchez has a great arm. He threw out 44 percent of would-be basestealers this season. He also started seven double plays behind the dish. He doesn't have a long-term future at catcher, however, given his body type. We could see him at first base 10 years or so down the line.
Quality catching is at a premium, and if the Yankees are willing to wait two more seasons, they'll have a top-of-the-line catcher.
Mason Williams, Center Field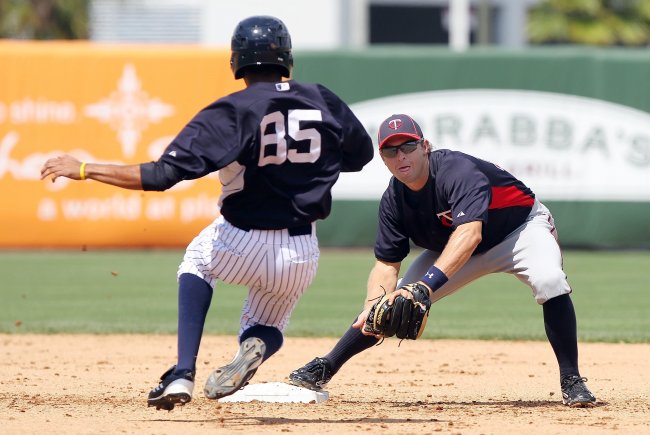 Kim Klement-USA TODAY Sports
Like Sanchez, Mason Williams is coming off a down season in which he failed to post a .300 on-base percentage. But that doesn't mean Cashman should give up on one of his top prospects.
Williams has virtually no power at this point in his professional career, though he could feasibly develop into a Brett Gardner-like power threat. With a quick bat, Williams just needs to drop the barrel on the ball like Gardner. That will come with time.
Williams is proficient in stealing bases. He has 64 stolen bases in four career minor league seasons. He's been gunned down 36 times, but I'm willing to attribute that to the fact that he's still learning the art of base stealing. By the time he's in the majors, that should no longer be a problem.
Like premium catchers, great leadoff hitters are hard to find. Gardner is solid now, but Williams could end up being better in a few years time. The worst-case scenario would have Gardner and Williams hitting first and second, respectively. This is all assuming Gardner is still with the team in two or three seasons, of course,
Williams may not have much power, but he will make plenty of things happen with his speed. There's a reason he's a top prospect.
Jose Campos, Pitcher
Jose Campos is a lesser-known prospect and isn't necessarily the best pitcher in the Yankees system right now. He does, however, have the most potential based on some key statistics.
For starters, he walked just 16 batters in 87.0 innings this past season. His control is great, and that's what will make him attractive to the Yankees when the time comes. His control doesn't do anything to hurt his strikeout numbers, either. Campos tallied 77 strikeouts on the year.
The right-hander came over as an "add-on" in the Jesus Montero-Michael Pineda swap with the Seattle Mariners a few seasons back, but he's already proved to be more valuable to the organization than Pineda.
There are questions about whether Campos should be a starter. He started 19 of his 26 appearances in 2013, but the final seven appearances were all out of the bullpen. He had success there, but he could make far more of an impact in the rotation.
It's not a question of his stuff. Campos has a tendency to run up high pitch counts and essentially take himself out of games earlier than expected. He has too much potential to be dealt away, though. All he needs to do is learn a bit more about pitching.