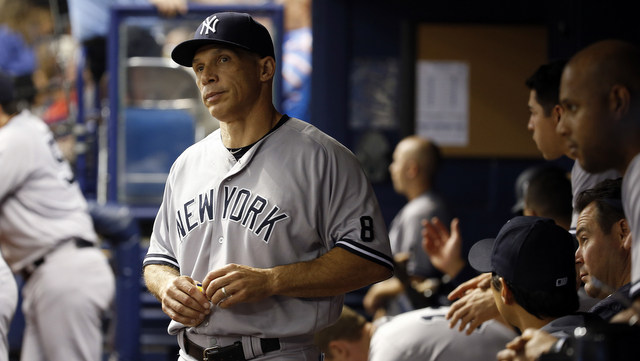 Folks, the Yankees aren't very good. They're bad and they're boring, and they've given us basically no reason to think they're capable of going on the kind of run it'll take to qualify for the postseason. The Yankees need to go 56-41 the rest of the way to match last season's 87 wins. That's a 94-win pace. I know the Yankees are bad because it is June 16th, and when I pull up the standings, I see this:

Last place. A deserved last place. The Yankees can't beat teams in their own division (10-17), they can't win on the road (13-20), and they've had only two winning streaks of at least three games all season. They can't kept their head above .500 at all. The last two times they've reached .500, they immediately went on a losing streak and fell several games back under. It's awful.
The Yankees are bad and chances are they're not going to the postseason. FanGraphs puts their playoff odds at a mere 10.9% right now. Being bad and missing the postseason does not mean the season has to be lost though. The Yankees can still accomplish a lot this season, stuff that will put them in better position to contend as soon as next year. It sounds crazy, I know, but it's doable. Here are a few ways to make the most of this yucky season.
Sell Sell Sell
This goes without saying. The Yankees have some valuable assets who clearly are not enough to get this team to October, and some of them figure to be gone after the season. Aroldis Chapman andCarlos Beltran are at the front of the line here. Andrew Miller and Brett Gardner have two years of control beyond this season and would help contenders. There are others to market as well.
At an absolute minimum, Chapman and Beltran have to be moved for younger players because of their impending free agency. The sooner the better too. Beltran's knee is barking and you don't want to be left holding the bag if it gives out in a few weeks. Chapman and Beltran have to go, but the Yankees should be open to moving everyone. Miller, Gardner, Dellin Betances, Starlin Castro, Brian McCann, you name it.
Make A Decision About Eovaldi (And I Guess Pineda Too)
Depending on the day, you either want to give Nathan Eovaldi a six-year contract or trade him as soon as possible. He's pitched extremely well at times this season, and yet here he is on June 16th with a very Eovaldi-ian 4.90 ERA (4.19 FIP). Eovaldi is the perfect microcosm of the Yankees. The talent is obvious and there are flashes that make you want to believe. The record and the stats are what they are though, and that's underwhelming.
The Yankees do not have Eovaldi much longer. This isn't Luis Severino with six years of team control remaining. Eovaldi will be a free agent after next season, and at this point the Yankees should at least have an idea of what they want to do with him long-term. Do they keep him or trade him? The sooner they make a decision, the better, because then they can begin to act on that decision.
The same applies to Michael Pineda as well, though it seems the chances of an extension with Pineda are much smaller. He was pretty damn terrible earlier this season, and the shoulder surgery is still in the back of everyone's mind. Either way, the Yankees should take the time this season to figure out what they want to do with Eovaldi and Pineda. The longer the wait, the more it'll cost them.
Figure Out What You Have In Refsnyder
In hindsight, this should have happened last year. It didn't though and it's not really happening right now either. Guys like Ike Davis and Chris Parmelee are stealing at-bats away from Rob Refsnyder, and you know what? I get it. He's inexperienced at first base — we've seen it at times for sure — and there's always going to be the temptation to go with the proven vet not playing out of the position.
The Yankees are at a crossroads with Refsnyder now. He's going to be 26 next season and he's logged over 1,000 plate appearances at Triple-A. It's time to find out where he fits going forward, and the only way to do that is by playing him. With the postseason looking like a long shot, all the at-bats going to the Davis and Parmelee types are a waste of time. They have no value to the Yankees. Is Refsnyder part of the solution or not? It's time to let him answer that question one way or the other.
Consider Eating Dead Money
It's tough not to notice what's going on around the league. Last week the Dodgers cut ties with Carl Crawford even though there was $35M left on his contract. Just yesterday the Rockies and Royals cut ties with Jose Reyes ($40M) and Omar Infante ($15M), respectively. The Dodgers and Royals are trying to win and the Rockies are rebuilding. They made similar moves despite being in different situations.
Why did those clubs eat all that money? Because it was best for the team, plain and simple. They had better players that deserved the playing time. The Yankees have a bunch of bad contracts that are doing various degrees of harm to the team. That doesn't mean they should release them all. Doing something like, say, releasing McCann so Gary Sanchez can play is silly. Silly and totally unrealistic.
In fact, I'd say the only player the Yankees should seriously consider releasing for the good of the roster is Alex Rodriguez. He's owed another $34M or so, but his bat has clearly slowed, he can't play the field, and he can't run. I love A-Rod, he's the man, but gosh does he limit flexibility. It's getting to the point where he does more harm than good on the field. There are better uses of that roster spot. We saw it earlier this year when he was on the DL.
* * *
I don't want the Yankees to be bad. I'd love nothing more than to watch them go on a three-month tear and play meaningful baseball in September. If you don't want to see that, then what's the point? It doesn't appear the Yankees are going to give us that chance though. So, instead, the focus should be on the ways the team can put itself in the best possible position to contend going forward. The sooner they shift focus, the better off they'll be.