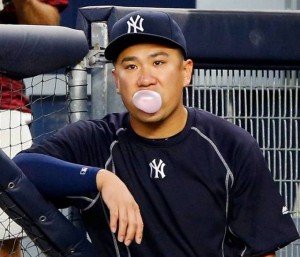 Coming into today, Masahiro Tanaka ranks third in the AL in ERA at 3.04, and has more innings pitched than the first place (Michael Fulmer–2.76) and second place (Aaron Sanchez–2.92) pitchers in front of him. He's also third in ERA- at 71. His 3.23 FIP is second only to Corey Kluber's 3.18 mark; despite that, though, Tanaka leads the AL in fWAR at 5.0 (over Kluber's 4.7) and FIP- at 73. At 1.07, his WHIP is sixth in the league. WPA? 4th at 2.31. Long and repetitive story short, if there is an important pitching category this year, Tanaka is top-ten in that category.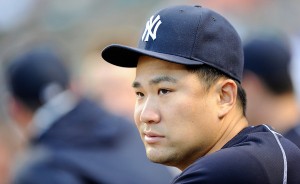 There are plenty of good candidates this year and given that, it's not likely that TANAK takes home the hardware this year. However, this is obviously his best chance to garner votes for the award, something he hasn't done in his first three years of service to the Yankees. Thanks to this big year, there's been talk lately of Tanaka's place among the game's best pitchers and to what degree he's been underrated by Yankee fans or the league at large.
Since 2014, he ranks tied for fourth in the American League in ERA at 3.11; 11th in FIP at 3.42; and 8th in fWAR at 10.4. As an added bonus, he's also fourth in K-BB% at 19.0 and fifth in WPA at 5.15. There's not a whole lot anyone could say–with a slight exception for durability concerns–that could convince me that Tanaka hasn't been one of the American League's top pitchers since he moved over from Japan.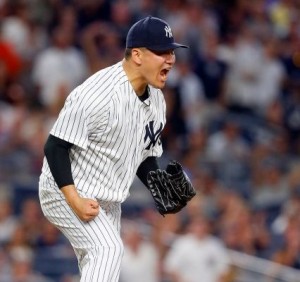 If you were to ask a handful of random baseball fans about where Tanaka ranked among they game's best, I doubt they'd have him up where he belongs. Maybe that's because the Yankees haven't been as prominent in the last few seasons. Maybe that's because he hasn't pitched as many innings. Maybe that's because he doesn't always appear to be completely dominant. But regardless of that, Tanaka is, no doubt, a top pitcher in the AL. He's able to change up his game seemingly from start-to-start to suit his opponent and is able to battle even without his best stuff thanks to his creativity and array of pitches. It's not always worth it to get into the underrated/overrated debate because it's so subjective, but this one feels different. There's a part of me that thinks Yankee fans haven't, in general, been as appreciative of Tanaka and his performance as they could or should have been over the last three years. It's likely due to those same issues above, but it still bothers me. Since CC Sabathia was his old self in 2012, the Yankees haven't had anyone pitching at the level Tanaka has been for a while now.
More than two years ago, over at IIATMS, I wrote a piece about the anticipation behind and ahead of the acquisition of Masahiro Tanaka. Not for the most part, but in totality, Tanaka has lived up to the hype.