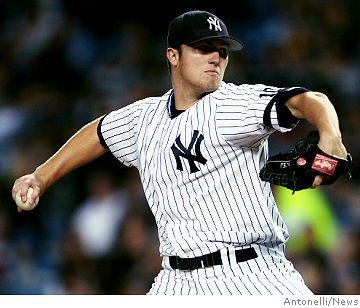 There have been three major surprises with the Yankees rotation to this point which I dont think many had expected. In particular, the names that come to mind are Phil Hughes, Bartolo Colon and Freddy Garcia. The first is a glaring negative and the last two are glowing positives.
Hughes came off a campaign where he won 18 games, struck out 146 batters and recorded a 4.19 ERA. He was named to the All-Star team but his stats were a lot better before the All-Star break than after. Hughes also had a forgettable postseason series against the Rangers where he had an 11.42 ERA in two starts. However, based on his performance the past two seasons (he was 8-3 with a solid 3.03 ERA in 2009), he was named the number three starter, and easily could have been Joe Girardi's number two starter coming into the season. It seemed like Hughes would be the second most reliable starter for the Yankees this season after the always dependable CC Sebathia, but so far that recipe has not come to fruition.
It is hard to figure out why, but he has lost his previous mid nineties velocity on his fastball and in turn all of his effectiveness. Hughes has been put on the disabled list because of a "dead arm" but the team is really just making up an injury so they can figure out where his struggles are coming from. Hopefully a start or two at AAA Scranton and some work with new pitching coach Larry Rothschild can help Hughes regain his form 2009-2010. It seems like whatever Rothschild has said has worked so far because he needs one more successful bullpen session before he makes a minor league start, likely on Thursday. However, Hughes can't really be judged on his bullpen sessions because he is not facing live hitters in a game situation. Come Thursday we will officially know how far he has come in turning the corner. His turn around is critical because I don't think that the Yankees can rely on both their positive surprises, Colon and Garcia, for an extended period of time.
The reason it seems like they will not be able to keep up this dominating performance to start the year is because of their recent track record, but if they can it would be an added bonus because then the Yankees would be able to move Ivan Nova to the bullpen or AAA. Colon has been even more of a surprise than Garcia because he did not even pitch in the majors last season. He has successfully proven that his dominating winter ball performance was not a fluke. Garcia recorded 12 wins last season with a 4.64 ERA, last season, with the White Sox so it is not likely this dominance will last for much longer from him. He was decent last season but it is possible that Rothschild has helped him figure out some of his issues.
Garcia and and even Colon have both exceeded expectations so far this season. Garcia has only given up one run in 13 innings pitched and Colon has pitched well in his role coming out of the bullpen as well as starting now in place of Hughes. Colon has a 3.50 ERA with four times as many strikeouts as walks. If he can continue that production that will be an added bonus. I don't have that much confidence in the young and inconsistent Nova, so when Hughes gets figured out it might be a smart decision to have Colon, Garcia and Hughes in the rotation until they can make an upgrade in July.
Even though the Yankees have started 12-6, and are in first place in the AL East, nobody would have expected Freddy Garcia to be statistically the most dominating pitcher and Phil Hughes to be the one with the most issues to this point. Hopefully Hughes' velocity issues gets resolved soon so that he can go back to pitching like he did last season. The Yankees will need him to have a successful season but Colon and Garcia have been pleasant surprises.